Economic Impact of Immigration – Debunking the Myths
There has been an ongoing debate over the economic impact of immigration in the United States. Despite the nation's origins, many believe that immigrants do more harm than good, replacing native-born workers, reducing wages, and burdening the welfare system. Data and key metrics, however, paint a different picture. Legal immigration has lots of positive effects both on the economy and the country in general. Scroll down and discover what makes foreign-born citizens essential for US society.
Overview of Immigration in the US
According to the latest Census data, the US population totaled 328,239,523 people in 2019. About 283,306,622 of those were native-born Americans, while 44,932,901 were foreign-born residents. Among the foreign-born living in the US, 23,182,917 were foreign-born naturalized US citizens.
Apart from the economic effects of immigration, the US sees an additional social and cultural impact from its naturalized citizens. Before analyzing the pros and cons of immigration in America, however, we need to understand the background of immigrants in the US. Below, we will focus on their education, employment status, income, and federal dependency. Those will give a more comprehensive image of both the economic and social effects of immigration in the country.
Education of Immigrants in the US
Just over a quarter (27.1%) of native-born Americans are enrolled in college or graduate school. That compares to about 54.1% of foreign-born residents and 66% of foreign-born naturalized citizens who attend college or graduate school. These figures show that immigrants will represent a large share of the college-educated workforce. This is one of the economic benefits of immigration since it results in a better-educated workforce.
Among Americans aged 25 or older, most native-born citizens (30.7%) have some college or associate degree. Most foreign-born residents (26.3%) have less than a high school degree. When it comes to graduate or professional degree, only 12.5% of native-born Americans have it. This percentage is lower than the 14.2% of foreign-born Americans that hold a graduate or professional degree.
Employment Status of Immigrants
Among the American population of 16 and over, 62.9% of native-born and 66.9% of the foreign-born residents were in the labor force in 2019. Among those working, 62.4% of native and 66.7% foreign-born were in the civilian labor force. The impact of immigration on the US economy here is evident — the number of immigrants in the US aged 16 or over counted 41,882,963 people, meaning, about 27,554,490 US workers weren't born in the country.
As for unemployment, about 2.9% native and 2.4% foreign residents were unemployed. The rates of native-born and foreign-born citizens that didn't take part in the workforce were 36.4% and 33.1%.
Most Common Criminal Charges of Immigrants
There's a wide misconception that immigrants commit violent crimes and drive criminal activities in the country. Statistics disprove this thesis. Most deportation proceedings (86.57%) in 2017 were related to immigration violations. It's essential to know these numbers to understand the real economic impact of immigration as immigrants.
Immigrants are students, workers, parents, or caregivers who contribute to society. A small share among them commits serious crimes. More precisely, 1.76% of the proceedings were aggravated felonies, while 0.01% related to national security. About 4.24% of the cases were other criminal activities, and the remaining 7.42% were categorized as 'other'. Not a single case of immigrant removal in 2017 was linked to terrorism.
Occupations Most Affected by Immigration
The impact of immigration is naturally the strongest in the industries that employ the most immigrants. Approximately 79.4% native and 82.9% foreign-born residents were private wage and salary workers in 2019. The rest were government workers (15% and 9.1%) or self-employed (5.4% and 7.7%). Again, these figures show the direct economic benefits of immigration in the US.
In terms of occupation rates, for native-born residents, management, business, science, and arts are the most common employment sectors (41%). About 21.6% hold sales and office positions, and 16.6% hold service occupations. The remaining 8.1% and 12.8% of native-born workers are employed in natural resources, construction, and maintenance production, or transportation, and material movement, respectively.
The effects of immigration in the US are most visible in the management, business, science, and arts occupation, with nearly a third of foreign-born Americans (34.6%) holding such positions. Service (22.8%), sales and office (14.6%), and production, transportation, and material movement (15.5%) are other top picks among US immigrants. About 12.5% of non-native residents hold natural resources, construction, and maintenance jobs.
Industries That Employ the Most Immigrants
About 20% of immigrant workers are employed in essential sectors like education services, health care, and social assistance. While the effects of immigration on the US economy from these employees aren't huge, these numbers underscore the social benefits of immigration. Education, health care, and social assistance are the cornerstones of every country. In America, over five million workers in these fields weren't born in the States.
Another 13.7% of foreign-born employees hold positions in the professional, scientific, management, and administrative and waste management services industry, underscoring the close relationship between immigration and economic growth.
Income of Native-Born vs. Foreign-Born Residents
There's a widespread misconception about the negative economic impact of illegal immigration. Americans believe that immigrants accept work for lower wages, dragging down the salaries of native-born employees.
The table below, however, reveals that most foreign-born US residents (23%) have an income of at least $75,000. Nearly 18% (17.8%) of immigrants in America earn between $25,000 and $34,999. Only 1.7% have income from $1 to $9,000 or generate losses. This percentage isn't too different from the 1.7% of native-born Americans who belong in the same income group.
This data shows that the economic impact of immigration as far as wages are concerned is negligible.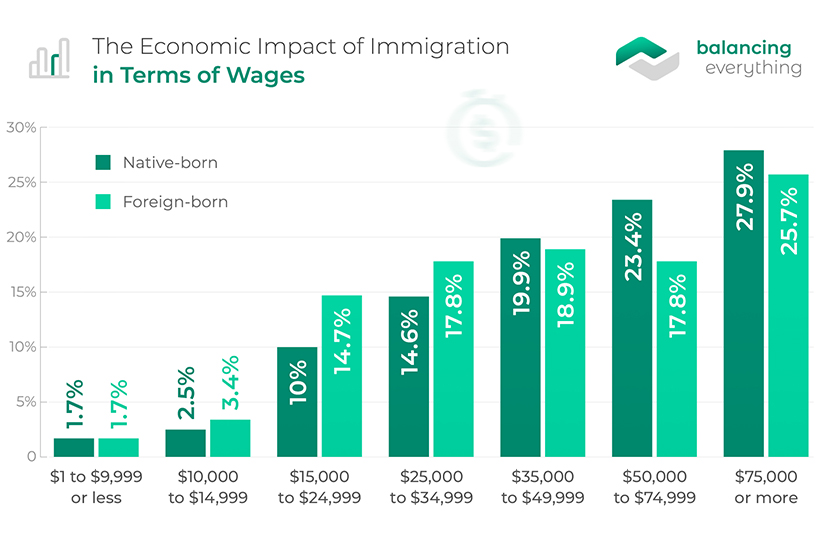 Do Immigrants Burden the Country?
Native-born Americans occupy over 100 million households. More than 18 million of those include foreign-born residents. When wondering about the immigration effects on the economy, we should note that 85.5% of immigrant households have earnings. The percentage of native-born families with income, in contrast, is lower at 76%.
A higher percentage of foreign-born families, however, have poverty status. While 13.7% of immigrant households are poor, only 12.1% of native-born households have poverty status. About 33.5% of native-born households receive social security income compared to 21.9% of foreign-born families. The mean social security income among native-born families is $20,198, compared to $17,106 for foreign-born households.More households of native-born Americans (5.2% versus 4.9%) receive supplemental security, too. They also get more in mean supplemental security ($9,964 versus $9,001), as well. This also points to the negligible effects of immigration on the economy in terms of the burden to the nation's social security system.
Homeownership of Immigrants in the United States
The immigrants' contribution to the US economy goes beyond diversifying the labor force and filling out vital positions and stretches to other areas of life. While 66.1% of native-born Americans live in owner-occupied homes, only 34.7% of foreign-born residents can say the same. Still, this is a high percentage which shows that more than half of US immigrants have not only invested money in the real estate market but pay property taxes too. As for renter-occupied homes, about 33.9% of native-born Americans and 65.3% of immigrants live in such circumstances.
Immigration Effects on the Economy
Immigrants play a significant role in the US economy. In 2017, 43% of Fortune 500 American companies were founded or co-founded by a foreign-born person or the child of a foreign-born person. This percentage grows to 57 when the focus shifts to the top 35 businesses.
This means that 216 top-performing US companies are a result of immigration. Their global revenue in 2017 totaled $5.3 trillion, and they employed 12.1 million people around the world. Meaning, the positive economic impact of immigration goes beyond its effects in the US. The top three industries for these businesses were high-tech, wholesale, and finance/insurance.
Where are most companies founded by immigrants or children of immigrants located? New York, Houston, Dallas, Chicago, and San Jose lead the way with a minimum of eight such businesses in each. New York, Illinois, Virginia, Texas, and California are the states with the most companies founded by immigrants. Many of these destinations are the states with the best job market in America. So, immigrants didn't ruin anything for native-born job seekers. On the contrary, they created more opportunities for everyone.
Economic Impact of Illegal Immigration
In a postdoctoral research study at the Baker Institute, José Iván Rodríguez-Sánchez focused on the impact of illegal immigrants in Texas. The study gives insights into the economic and cultural benefits of immigration.
In the fiscal year 2018, the costs of illegal immigration in Texas were $2.01 billion. Most of those costs were associated with education ($1.51 billion). The remaining $122 million and $374 million were related to health care and incarceration.
These figures can make anyone believe in the harmful effects of immigration on the economy in the state. Let's, however, analyze the revenue Texas earns from undocumented immigrants. Some of the revenue sources include taxes and fees, lottery, utilities, court costs, and school property taxes. The total revenue the state collected in the fiscal year of 2018 from illegal immigrants totaled $2.43 billion.
That's right — the balance from illegal immigration for the Lone Star State is positive. In the fiscal year 2018, Texas earned about $420 million from its undocumented residents. The study also concludes that deporting all illegal immigrants would result in losses of nearly $42 billion.
The economic impact of immigration by state differs as not all states are in the same situation as Texas. Still, as one of the most affected by illegal immigration, the state proves that immigrants contribute a lot, regardless of their status.
Final Thoughts
Immigration comes naturally to people. Seeking better opportunities and changing locations have been among the cornerstones of progress for centuries. The situation hasn't changed in these modern times, with immigration still playing an essential role worldwide. In the United States, the economic impact of immigration is significant and mostly positive. Foreign-born residents hold vital jobs, boost growth, and contribute through paying taxes, fees, and bills.
References: Census, Baker Institute, Brookings, Brookings