Identity Theft Statistics
No one is safe from identity and credit card theft. Children, seniors, and even military consumers can easily have their identity stolen without even knowing about the fraud. The latest identity theft statistics reveal that this type of fraud is on the rise.
In most countries, ID thefts represent less than 1% of all offenses. The USA meanwhile sees millions of identity thefts per year. In most cases, the damage is financial, and solving the issue is time-consuming. When Americans deal with medical impersonation, however, the stakes are higher with misdiagnosis and mistreatment entering the picture.
Read on for the latest ID theft trends and facts that will hopefully help you avoid becoming part of the statistics.
Identity Theft Statistics (Editor's Choice)
There were 1.4 million identity theft reports in the US in 2020.
Those aged between 30 and 49 are the most common ID theft victims.
At 147,382, California is the US state with the highest total of ID theft reports.
Government documents or benefits fraud is the most common type of ID theft in the US.
In 2020, 56,451 ID theft cases were reported by military consumers.
Most impersonation victims in America are those earning $75,000 or more a year.
The highest ID theft losses come from opening new accounts and misusing personal information.
More than half of identity thefts get resolved within a day.
Identity Theft and Credit Card Fraud Trends
1. The online identity theft percentage of internet-related incidents in the EU is 1.
Misuse of personal information also contributes to only 1% of such incidents. The majority of incidents are fraudulent messages (phishing) and redirection to fake websites (pharming) with 26% and 13%, respectively. Other issues Europeans face when using the Internet include lost documents due to a virus (3%), credit card fraud (3%), and hacked accounts (2%).
(Eurostat)
2. Malta, the UK, and Switzerland recorded the highest online identity theft percentage in 2019.
All these three countries had an identical percentage (3%) of their population deal with online ID theft. Identity theft statistics worldwide show that the UK also leads the way in credit card scams among its European peers. About 7% of Brits faced this issue, while people from Denmark (6%) and France (5%) came right next.
What country noted the highest number of all types of online fraud and ID theft combined? European fraud statistics show that it's Norway. Approximately 66% of Norwegians reported one or more of these issues in 2019, according to EU ID theft stats. The top five list is rounded up with Switzerland (54%), Denmark (50%), the UK (50%), and France (46%).
(Eurostat)
3. The majority of Europeans would inform the police if they were an ID theft victim.
About 84% would contact the police, while only 13% would contact the website vendor. An additional 13% said they would call the Internet service provider, and 7% would get in touch with a consumer protection organization.
It's interesting to compare these figures against the FBI identity theft statistics. In the US, 90% of ID theft incidents go unreported. Only 6.8% of Americans dealing with this incident went to the police. Moreover, most of them don't think the authorities can help them if they report credit card frauds or ID theft.
(Eurostat)
4. ID theft crimes represent less than 1% of all crimes in Canada.
In 2019, there were over 2 million reported crimes in Canada. Among those, only 19,285 were ID theft incidents. This figure represents only 0.88% of all crimes in the country. These figures place Canada in the same category as most European countries, according to identity theft statistics worldwide.
(Statistics Canada)
5. Online shoppers from Britain are the most frequent victims of online identity theft.
Online fraud statistics reveal that approximately 14% of Brits who do online shopping have been ID theft victims. About 11% of Americans and 10% of Canadians meanwhile have reported such issues. Only 6%, 5%, and 3% of online shoppers from France, Spain, and Germany, respectively, reported having their identity stolen. These online credit card fraud statistics suggest that people from EU countries seem to be even more careful when online shopping.
(Francesco Di Ciccio)
6. Identity fraud in the UK is on the rise.
In 2019, there were 223,163 cases of ID fraud in the Kingdom, accounting for 61% of the cases recorded to the NFD. This is an 18% increase from the figures in 2018. Plastic cards and bank accounts particularly targeted and, as suggested by identity theft stats, 87% of identity fraud cases occurred via online channels, and over half were granted before the fraud was identified.
(Cifas)
7. British men represent more than half of all the impersonation victims in the UK.
About 62% of all impersonation victims in the UK are male, while 38% are female. As for what age groups are the most affected by impersonation, those aged 31-40 led the way in 2017. A total of 34,482 impersonation frauds targeted people from this age group. Per the Cifas teenage identity theft statistics, a total of 8,613 cases affected individuals under 24, teenagers over 14 included. This figure was 15% higher than the one noted in 2016, meaning such ID frauds are on the rise.
(Cifas)
8. Credit card fraud is the most common type of impersonation in the UK.
In 2017, there were 58,788 credit card fraud cases associated with ID theft. Bank account incidents related to ID theft came next with a total of 51,544 such offenses. Telecom impersonations jumped by 47% to 16,973 in 2017. Online retail ID theft also increased by nearly a half (49%) and reached a total of 11,729 incidents. Ghost brokers, per the Cifas online identity theft and credit card fraud statistics, noted a shocking year-on-year rise of 1,600% from 248 to 4,215.
(Cifas)
9. Stolen or fake identities sell for $0.10-$1.50 in the underground economy.
Financial fraud statistics show that medical notes and prescriptions sell for higher at $15-$20, while mobile phone online accounts cost about $15-$25. You can buy stolen medical records for $0-$10-$35 or full ID packages for $30-$100. Getting your hands on scanned documents containing personal data will cost you $0.50-$45.
The prices for credit cards on the underground markets are equally low. A single credit card is about $0.50-$20, while a card with full details costs $1-$45. It's likely, however, that these have already been used by offenders for different types of credit card frauds and won't work.
(Symantec)
10. The synthetic identity theft rate has been on the rise in the past few years.
Synthetic identity fraud statistics show that these have been on the rise and jumped by 35% from 2015 to 2016. When an offender uses real information to create a new (unreal) identity, we have cybercrime identity theft cases. These cases have a high average loss of $6,000 per account.
(Experian)
American Identity Theft Stats
11. There were 2.2 million fraud reports in 2020, and most of them were identity theft cases.
This total covers fraud reports including identity theft reports and complaints related to other consumer issues, such as problems with credit bureaus and banks and lenders. With 1.4 million reports, identity theft ranks first. The total fraud losses reached $3.3 billion, and the median loss was $311.
Imposter scams followed with a total 498,278 reports, out of which 22% faced losses. The total reported loss stood at $1.2 billion, while the median loss was $850.
(FTC)
12. Impersonation has been on the rise but remains under the record-highs seen in 2015.
Back in 2001, there were only 86,250 ID theft reports in the USA. The FTC identity theft statistics, however, showed that only a year later, the number nearly doubled to 161,977. The record-high number of such reports was seen in 2015 when there were 490,112 incidents filed.
In 2016 and 2017 the number of ID thefts dropped under 400,000. In 2018, however, there was an increase in identity theft once again when the number of impersonation crimes reached 444,602, reaching a peak of 1,387,615 reports in 2020.
(FTC)
13. In 2017, almost 60 million Americans had their identity stolen.
The stats provided by Panda Security show that in 2016 about 791 million identities were stolen in the country. That year, France came in second with 84 million identities stolen. In its online identity theft statistics, the provider concludes that social media users have a 30% higher risk of becoming victims. Specifically, those who use Facebook, Snapchat, and Instagram face even higher risks (by 46%) compared to those without social media profiles.
(Panda Security)
14. Most complaints filed to the FTC aren't identity theft-related.
In 2020, most complaints in the FTC were either about frauds (2,184,531 reports) or other consumer complaints (1,200,602). Between these categories, imposter scams ranked highest with 498,278 reports, followed by online shopping and negative reviews with 352,805 reports, and credit bureaus, information furnishers, and report users with 316,521 reports.
(FTC)
15. Those aged between 30 and 49 are the most common ID theft victims.
Child identity theft statistics reveal that there were 23,651 complaints regarding ID theft of children and teenagers aged 19 and under. The majority of those (13,561 cases) are employment or tax-related frauds. Those aged 30-39 and 40-49 were the largest demographic among identity theft victims, with over 300,000 reports each. The most common type of fraud in the first group was credit card fraud, while government documentsor and benefits fraud dominated the reports of the second group.
(FTC)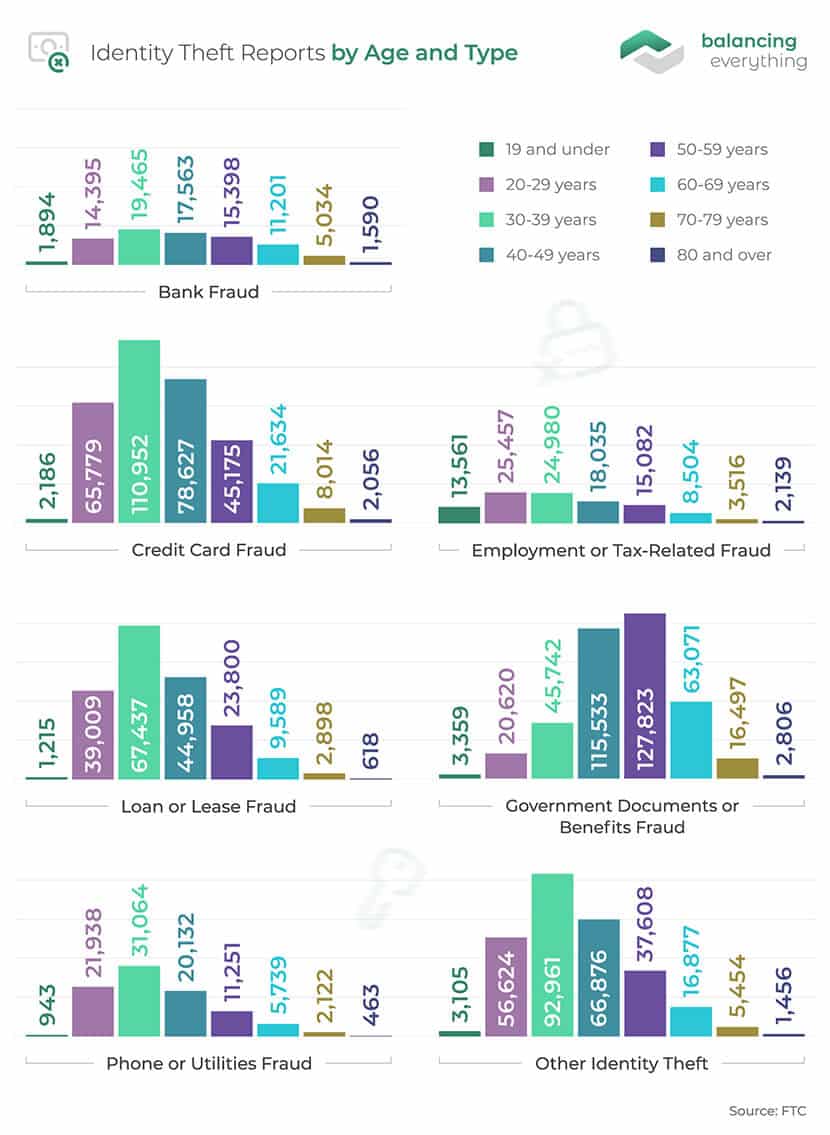 16. Kansas is the US state where the most identity thefts per capita are reported.
The state recorded 1,483 complaints per 100,000 population, more than any other American state. The top five list is rounded up with Rhode Island (1,191 reports), Illinois (1,066), Nevada (740), and Washington (712). Identity theft statistics by state meanwhile show that the state with the most complaint reports is California with a total of 147,382 ID theft complaints. Illinois (135,038) and Texas (134,788) also have recorded lots of such complaints.
(FTC)
17. South Dakota recorded the smallest number of ID theft reports per capita.
The Mount Rushmore state had a total of 637 complaints and only 72 complaints per 100k population. With 96 and 113 complaints per 100k population, Iowa and Nebraska rank second and third, followed by Alaska and Kentucky, with 127 reports each, according to identity fraud statistics by state.
(FTC)
18. The number of data breaches significantly jumped in 2017.
In 2013, there were only 614 data breaches in the United States. This number slowly progressed to 784 in 2015, then skyrocketed to 1,632 in 2017. Another peak recorded in 2017 referred to the number of exposed records, which stood at 197.61 million. Even though data breaches dropped to 1,257 in 2018, this year noted a record-high of 471.23 million records exposed. The opposite happened in 2019 when 1,473 data breaches exposed 164.68 million records.
(Statista)
19. Government documents or benefits fraud is the most common type of ID theft in the US.
Identity theft statistics by country highlight that most such incidents in the US are related to government documents or benefits, accounting for 406,375 cases. This is followed by credit card fraud (393,207 reports) and other identity theft fraud (353,152 reports). With 89,476 and 99,539 reports, respectively, brank fraud and phone or utilities fraud were the least common ID theft frauds.
(FTC)
20. Most identity thefts were discovered after victims were contacted by financial institutions regarding suspicious activities.
Almost half of all the cases (47.6%) were discovered this way. About 18.7% of the victims noticed fraudulent charges on their accounts themselves, as BJS credit card skimming statistics reveal. Only 8.0% saw money missing from their accounts, while 4.7% dealt with declined credit cards due to insufficient funds.
An additional 4.6% of the victims were notified by a company or agency, while 2.9% received a bill for a purchase they didn't make. Only 0.5% of the impersonation victims in 2016 were notified by the police of the incident.
(BJS)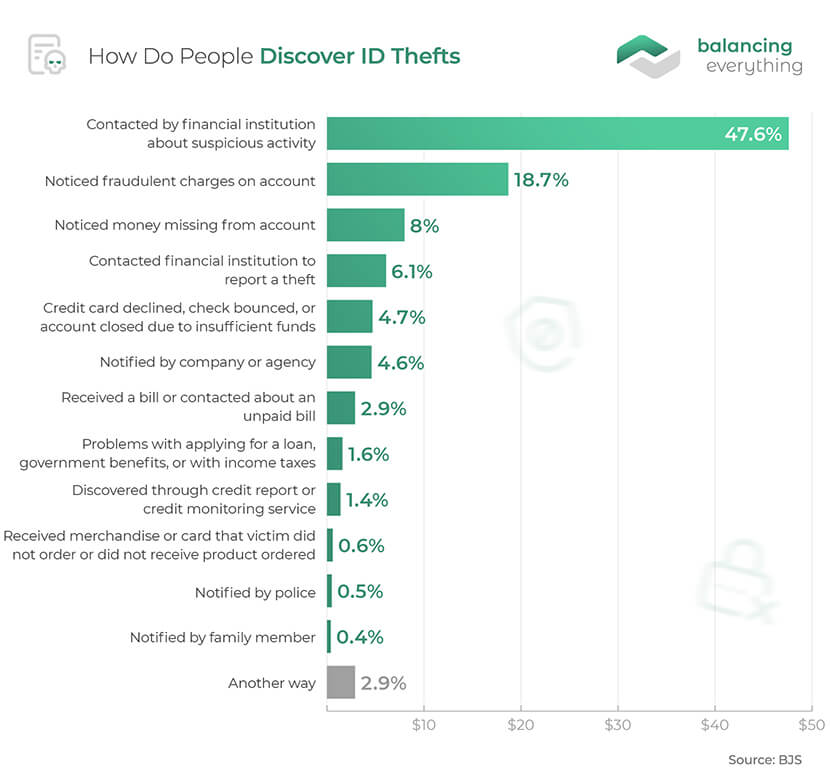 21. In more than 90% of identity thefts, the victim didn't know anything about the thief.
The victim knew something about the person who stole their personal information in only 6.2% of cases. This situation was the most common among cases involving misuse of personal information. The official identity theft stats show that about 16.4% of such victims had some information about the offender.
Around 13.0% of victims dealing with accounts opened under their name also knew something about the offender. Misuse of existing credit cards and bank accounts meanwhile is mostly done by complete strangers. Here, only 3.1% and 6.1% of victims reported knowing something about the identity thief.
(BJS)
22. The highest ID theft losses come from opening new accounts and misusing personal information.
The average loss associated with opening a new account is $3,460, and the median loss here is $800. As for misusing personal information, the average and median losses are $2,620 and $600, respectively. According to the BJS credit card fraud facts, the average and median losses in this category are much lower at $730 and $200.
(BJS)
23. More than half of identity thefts get resolved within a day.
A total of 57% of one-time incidents in 2016 were resolved within a day. Nearly 20% of the incidents took between 2-7 days to fix. About 15% of incident resolutions lasted between eight days and one month. Under 10% of all ID theft resolutions lasted 1-3 months, while insignificant 1% took 3-6 and over six months to resolve.
(BJS)
24. Americans get more than 4 million tons of junk mail per year.
There aren't any reliable dumpster diving identity theft statistics due to the nature of the 'activity'. There are, however, other figures we can use to highlight this type of offense. Namely, about 4 million tons of junk mail is sent to Americans every year.
Such mail often contains personal details, SSNs, email addresses, bank account information, and more. Meaning, offenders can use it for ID theft but also other types of fraud, including benefits, tax, bank, and loan fraud. The surest way to protect yourself from dumpster divers is to shred all mail containing any kind of personal information.
(LifeLock)
25. Medical impersonation is on the rise in the United States.
Medical identity theft statistics show that this type of fraud has increased by 22% since 2013. In 2014, the total out-of-pocket costs victims paid totaled about $20 billion. Approximately 65% of victims had to deal with such costs.
Besides financial damages, medical ID theft victims deal with other issues too. About 20% of people whose medical identity was stolen reported being misdiagnosed or receiving unsuitable treatment. Such indirect impact can have severe consequences for the victims; some of them can even result in death.
(FreedomidDirect)
Identity Theft Stats by Demographics
26. Most ID theft victims in the US in 2016 were women.
Out of 25.95 million victims, about 13.45 million were women and 12.49 million were men. These figures represent 10.3% of all women and 10.1% of all men in America aged 16 or older. Most men (6.81 million) struggle with the misuse of credit card details. For women (6.51 million), on the other hand, misusing existing bank accounts is the main issue. Opening accounts or misusing personal data affected 1.21 million men and 1.39 million women, according to stats about identity theft.
(BJS)
27. White Americans are the most common victims of identity and credit card fraud.
The total number of victims among White Americans aged 16 or more in 2016 was 19.42 million (11.8%). Fewer African Americans, Hispanics, and people from other races were scam victims. The total number of such frauds counted 2.3 million (7.4%), 2.5 million (6.3%), 1.3 million (8.4%), respectively. Among biracial Americans aged 16 or more, there were 366,200 victims. Meaning, about 12% were affected by ID theft, which is the highest percentage compared to the rest.
(BJS)
28. White Americans struggle the most with credit card fraud, while African Americans mostly deal with bank account fraud.
Credit card fraud statistics show that about 6.5% (10.66 million) of scammed White Americans had their credit card details misused. Most African Americans (1.42 million or 4.6%) had their bank account details misused. The situation is similar among Hispanic Americans with 1.42 million or 3.5% dealing with abuse of bank account information.
(BJS)
29. In 2020, 56,451 ID theft cases were reported by military consumers.
Among such consumers, government documents or benefits fraud was the most common type of impersonation, with statistics on identity theft revealing 23,847 reports for it. There were 11,418 credit card fraud incidents, 8,545 reports of other frauds, and 7,178 bank fraud reports.
(FTC)
30. Most impersonation victims in America are those earning $75,000 or more a year.
While only 3.27 million of people whose identity was stolen make less than $25,000, about 12.74 million of them make over $74,000. The number of victims who earn $25,000-$49,999 and $50,000-$74,999 is 5.31 million and 4.62 million, respectively.
Per the credit card theft statistics, approximately 7.80 million or 8.6% of Americans making $75,000+ have their card details misused. All the other income groups mostly struggle with the misuse of bank account details.
(BJS)
FAQs
Where is identity theft most common in the world?
About 44% of credit card users in Mexico have suffered fraud and ID theft. This percentage places the country at the top when rates are compared. The US has the highest number of data breaches (1,023) in the world. Finally, Russia is the primary source of ID theft.
We'd like to highlight that a single data breach can lead to stealing thousands or even millions of identities at once.
What are the odds of having your identity stolen?
About 6.64% of people became impersonation victims in 2017. This percentage shows that about 1 in 15 gets their personal data stolen. Your actions, however, can significantly improve or worsen these odds.
People who are careful and who take steps to protect themselves are less likely to be ID theft victims. For instance, never clicking on spam emails or giving personal data over the phone are two ways to avoid this scenario.
How do thieves steal your identity?
There are both old-fashioned and modern ways that an identity thief uses to get your information. Here, we have dumpster diving, phishing, skimming, stealing your mail, and pretexting. Other methods include shoulder surfing and social engineering.
The most common card skimming methods include tampering with ATMs. These days, however, scammers recruit workers at restaurants and retail shops who frequently handle credit card payments.
Other examples of credit card frauds would be the use of a stolen card, the creation of fake cards, and account takeovers. Meaning, it's essential to always be alert when using your card as new ways of scamming consumers appear constantly.
How long does it take to investigate identity theft?
For a person to deal with the ID theft effects, it may take them anything between seven hours and up to 1,200 hours. Everything depends on the magnitude of the issue. The process involves filing reports, sending letters, setting up fraud alerts, and more.
As for how long authorities take to investigate such cases, the average is between 120-180 days. Again, the exact length depends on the complexity of the case. In fact, the most complex ID theft cases may take up to a year or more to be investigated.
What are the four types of identity theft?
New account, tax, medical, and employment identity theft are the four common types. New account ID theft covers several other subcategories such as bank fraud, credit, and debit card identity theft, and loan scams.
Do identity thieves get caught?
It seems the answer is rarely. A study by ScamBusters from 2006 established that only 1 in 700 ID thieves get arrested by authorities. Meaning, less than 1% (0.14%) of identity thieves get caught, while the rest just move on to their next victim.
Two reasons for these disappointing numbers are the non-violent nature of the crime and the thief's country of residence. Fraud stats show that authorities give priority to solving violent crimes and, therefore, often overlook impersonation cases. Also, a lot of identity thieves operate outside their country of residence.
Finding the Balance
All these identity theft statistics and FAQs show that fraudsters always come up with new ways to scam people. In a way, identity theft and credit card fraud are evolving. That's why all consumers must handle their personal and credit card details carefully at all times.Never click on suspicious emails, never enter card information at doubtful websites, and shred documents. These steps will help you protect yourself when browsing the Internet and handling your mail. Naturally, you can also invest in a top-rated identity theft protection tool for additional peace of mind.
References: Eurostat, Eurostat, Eurostat, Statistics Canada, Francesco Di Ciccio, Cifas, Cifas, Symantec, Experian, FTC, Panda Security, Statista, BJS, LifeLock, FreedomidDirect