Cost of Having a Baby – Full Overview of Childbirth Expenses
Besides being a special moment in any person's life, childbirth is also a significant part of the economy. The cost of having a baby differs based on where you live and whether you're insured. About four out of every five dollars spent on newborn health care come from the cost of childbirth. Regardless of whether a person has a vaginal or C-section delivery, hospitals generate millions thanks to newborn babies. The average cost of pregnancy, moreover, doesn't just include childbirth. From vitamins and lab tests to healthy food and baby items, carrying and having a baby can be a real budget drainer.
How Much Does a Baby Cost?
The average cost of having a baby in the USA for a simple vaginal delivery without complications was $5,681 in 2018. In late 2020, the average cost to have a baby in the country is nearly $11,000 ($10,808), with this baby delivery cost referring to a complication-free vaginal birth.
The cost of delivering a baby without insurance, for example, is much more expensive than doing so with insurance. The type of delivery alongside any complications or chronic diseases also impacts the total cost of labor and delivery.
Where you give birth is another essential expense factor. The hospital cost of having a baby is the highest compared to other options. That's why recently there's been a notable increase in birth center (50%), home (77%), and community childbirths (85%). The National Partnership's 2020 report suggests that the cost of giving birth in the USA at birth centers was 21% lower at $8,285 versus $6,527. Total childbirth and postpartum costs at birth centers were 16% lower at $12,527 versus $10,562.In the table below, we listed the average cost of labor and delivery for normal births compared to those with complications and severe maternal morbidity (SMM).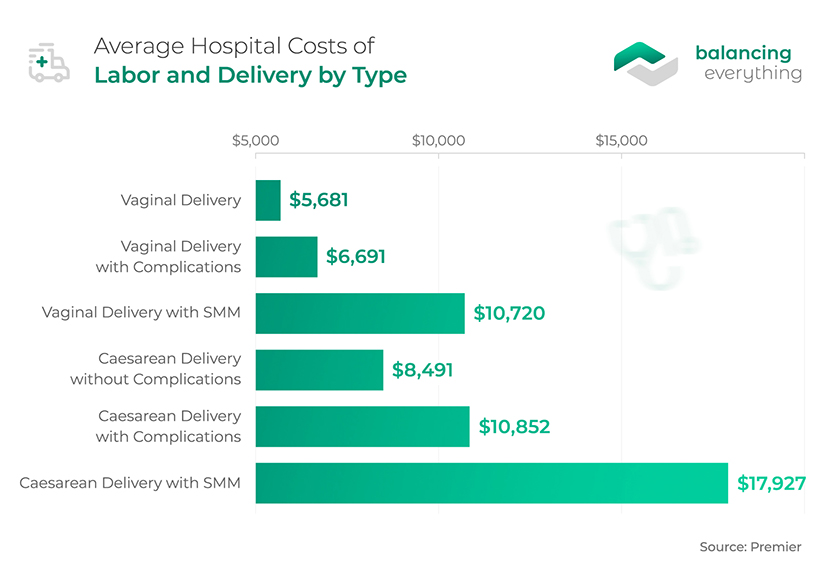 Total Delivery Provider Charges and Patient Payments
A National Partnership report from 2010 focuses on the cost of having a baby alongside the total provider charges. While these numbers are outdated, they give a great example of how the cost of pregnancy has changed over the past decade. It's also a reliable representation of the difference in the cost of childbirth in the US between commercial and Medicaid beneficiaries.
The average total provider charges for commercial beneficiaries in 2010 were $24,921. The average vaginal childbirth provider charges for these consumers were $22,734, while the cost of giving birth through a C-section was $32,062. As for the total average payments among commercial beneficiaries, those were $13,494. For the same category of patients, the total average payments for vaginal childbirths were $12,520 compared to $16,673 for C-sections.
The amounts were slightly lower for Medicaid beneficiaries. The total, vaginal, and Caesarean childbirth costs were $24,227, $21,247, and $31,259. A significant difference was noted among the average payments. Per the NP report on the average cost of having a baby, Medicaid patients paid nearly two times less among Medicaid beneficiaries. The total, vaginal delivery, and C-section payments in this category were $6,673, $6,117, and $7,983.
The same report reveals that insurers covered the major share of the total payments. About $10,726 of the average payment of $12,520 for vaginal childbirth came from insurers. Similarly, insurers paid an average of $14,588 of the total $16,673 for Caesarean deliveries. Nearly 90% of the rest were out-of-pocket payments, and third parties like employers or unions covered the remaining 10%.
Medical Cost of Having a Baby
Complications increase the price of both vaginal and Caesarean deliveries by an average of 20%. SMM can further lift the total expenses from several hundred dollars to up to $25,000. Below, we will analyze the average cost of giving birth by service and phase of care.
By Type of Service
The average payment for vaginal childbirth in the US in 2010 was $6,117. Most of that amount or $3,102 went on facility fees. Professional service fees cost $1,445, while pharmacy costs were $590. Patients also spent $454 on radiology as well as $362 on laboratory fees. Finally, the average professional anesthesiology costs of $165 rounded up the total expenses of over $6,000.
The cost of having a baby with a C-section is higher, but the contributions are similar. Out of the total average payments of $7,983, $4,358 went on facility fees. Professional service fees, pharmacy charges, and radiology costs were $1,654, $801, and $584.
By Phase of Care
The largest share of the total maternal health care charges and payments goes to intrapartum expenses. Prenatal charges come next, and postpartum charges have a nearly insignificant contribution. Per the report on the cost of having a baby in America, out of $22,734 on average total charges, $16,165 were intrapartum expenses. Prenatal and postpartum expenditures were only $6,071 and $498. These figures were for vaginal childbirth.
For Caesarean deliveries, the intrapartum charges were even higher at $24,572 out of the total expenses of $32,026. Prenatal and postpartum costs were drastically lower at $6,866 and $625. The trend was noticeable among the average payments for both types of childbirth.
Factors That Increase the Average Cost of Giving Birth
A report by Premier reveals that many factors affect the cost of having a baby. In the table below, you can find a list of such factors and how much they increase the hospital bill for having a baby. The more serious the complication, the higher the final price. The main reason behind this is the prolonged time spent in the hospital, and we established that facility fees cost the most.
Chronic health conditions also increase the total cost of having a baby if they complicate the delivery. Patients can end up with additional expenses from several thousands of dollars of up to nearly $12,000. These go on top of the extra costs we discussed before.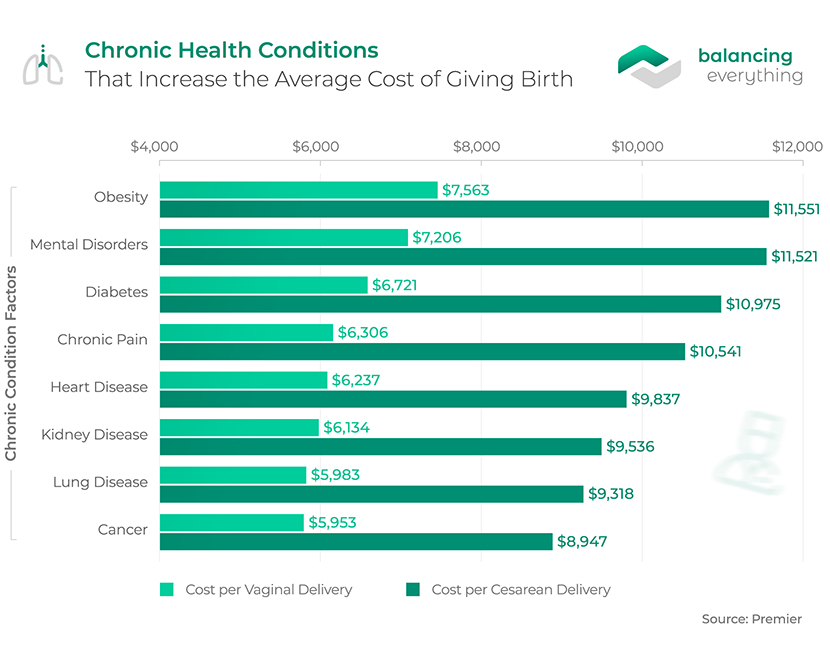 Behavioral health disorders also impact the hospital cost of having a baby. Mothers with such disorders pay an average of $7,206 compared to the average of $5,681. A C-section delivery for patients with BHD costs an average of $11,521, also higher than the typical average of $8,491.
Average Cost to Have a Baby by State
How much does it cost to give birth based on where you live? Another essential factor is whether you are insured or not. The cost of having a baby without insurance is significantly higher.In the table below, you can find the average cost of childbirth in every state. We went a step further and included a comparison of the cost of delivering a baby with and without insurance. Plus, we covered the average cost of hospital birth for vaginal and Cesarean deliveries.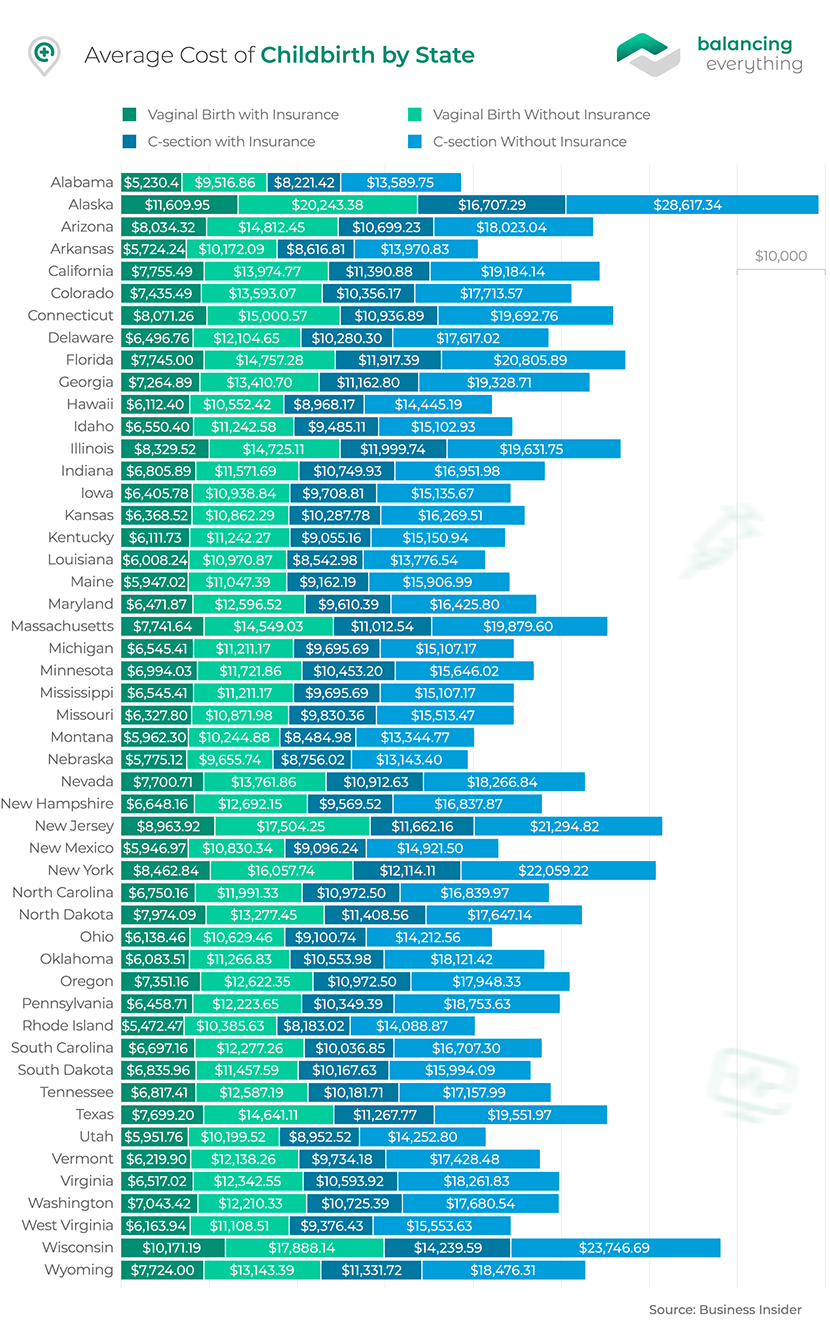 Alaska, Wisconsin, and New Jersey are the three states with the highest vaginal birth costs for both insured and uninsured patients. At the other end of the spectrum are Alabama, Nebraska, and Arkansas. These three US states boast the lowest cost of having a baby without insurance and with it.
Alaska, Wisconsin, and New Jersey also have the highest birth expenses for C-sections. Rhode Island, Alabama, and Montana have the cheapest C-section baby delivery costs for Americans with insurance. Nebraska, Montana, and Alabama have the lowest expenses of having a baby with a Cesarean for patients without insurance.
Additional Pregnancy and Baby Expenses
The cost of pregnancy isn't only associated with the delivery. There are numerous expenses months before the delivery date, and then the costs keep growing after childbirth, too.
During the first year of having a baby, American parents should prepare for an average cost of baby items of $2,700. Depending on the quality and brand, crib prices range between $100 and $1,000. The same applies to baby clothes, rocking chairs, baby monitors, and strollers. The total cost of having a baby per month also goes beyond these one-time purchases. Baby formula costs up to $150 a month, while diapers cost between $70 and $80 a month.
Let's list some other items and services that will increase the total baby expenses. These will affect your cost of giving birth in the USA without insurance or with it.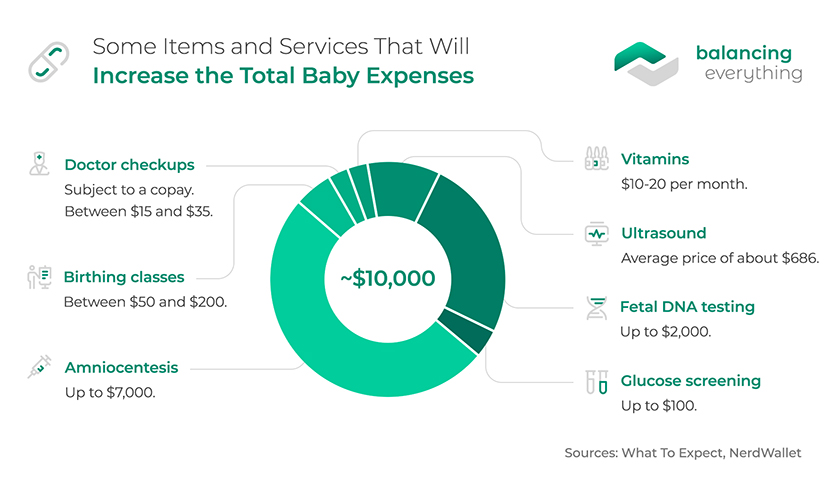 Naturally, the cost of having a baby with insurance is significantly lower. If you get coverage, however, you pay monthly premiums that also cost money.
Marketplace plans with a $6,000 deductible cost of about $773 per month. The maximum out-of-pocket expenses for such plans go up to $7,900. Meaning, this step can pay off in case there are complications and you end up with a hefty hospital bill. Employer coverage is also welcome. Yet, our health insurance statistics show that more than 30 million Americans have no insurance at all.
Baby Delivery Cost Around the World
How much does it cost to have a baby in the UK? It's cheaper than in the US. In Britain, vaginal delivery or planned C-section was about £1,755 (around $2,303) in 2018. In the case of complications, the average cost could go up to about £2,582 (around $3,400). Canadians pay an average cost of having a baby in a hospital of $3,195 for normal birth and about $5,980 for a C-section.
In most European countries, the average cost of delivering a baby varies between $2,000 and $4,000. In Spain, it was a bit under $2,000. Switzerland is the exception here as vaginal deliveries in the country cost nearly $8,000. Australians pay an average of nearly $5,500 for normal childbirth, while Kiwis spend a bit over $2,000.
While Americans lead the way in most expensive childbirth costs among most countries, they're still not in the worst situation. Namely, the average cost of having a baby in Japan is about $61,810. Our statistics on healthcare costs by country nevertheless place the USA on the top of destinations with the most expensive medical care.
Frequently Asked Questions
How much is the hospital bill for having a baby?
Vaginal deliveries cost about $5,681, going up to $20,000 and even $30,000 in case of complications. The longer you stay at the hospital, the larger the bill. The price also depends on previous chronic health issues and where you give birth to your child.
How much does it cost to have a baby at home?
To avoid the soaring hospital cost of having a baby, many people decide to give birth at home. Most midwives in the US charge a flat rate between $3,000 and $9,000. This charge includes prenatal, birth, postpartum, and newborn care. All lab tests, birth supplies, and ultrasounds cost extra.
How much does it cost to have a baby without insurance?
A Truven Report suggests that deliveries cost uninsured parents between $30,000 and $50,000. Some low-income families, however, may qualify for enrolling in the Medicaid program. In this case, they are eligible for help that lowers at least a share of the total baby delivery costs.
How much does pregnancy cost?
The approximate cost of having a baby includes all expenses pre, for, and after delivery. It also depends on where you live and the type of childbirth. Americans in Alaska, Wisconsin, and New York, for example, pay the highest average cost of pregnancy. People with chronic health issues or complications during delivery have more expensive pregnancy than the rest, too. The average childbirth cost ranged from $5,600 to $18,000 in 2018. This amount grows much higher when all the lab tests, supplements, and doctor checkups are considered.
Balancing Your Baby Costs
While having a baby is a profoundly emotional experience, it's also a serious financial event for which you need to plan ahead. The cost of having a baby is no joke and can soar in case of complications or no insurance. In addition to the average hospital bill for having a baby, future parents shouldn't overlook all the pre and postpartum expenses. From expensive tests and vitamins to soaring crib prices, the total pregnancy cost starts growing months before delivery. Finally, don't forget that these expenses are just the beginning since the average cost of raising a child is even higher.
References: National Partnership, Inhersight, Economist, Premier, Business Insider, Business Insider, What To Expect