Accounting Degree Jobs
The accounting field offers a greater variety of jobs than you might be aware of. The skills and knowledge acquired through an accounting degree can set you up for a career in any industry. Whether you want to work in a corporate environment, independently, or as a part of a tight-knit team, the accounting industry offers many options for highly organized individuals who love playing with numbers. Even more exciting accounting degree jobs await those who'd like to dive deeper into more complex fields. Below you can explore your accounting degree job opportunities and job ideas for accountants who don't want to be accountants. Let's dive in!
Accounting Degree Jobs Salary and Outlook
The accounting industry is projected to generate $141 billion by the end of 2022, meaning it's a strong backbone of the US economy. The industry employed 1.32 million accountants and auditors and 1.51 million bookkeepers and clerks in 2021. Accounting majors' jobs are expected to grow by 7% by 2030. More precisely, 135,000 accounting degree jobs are expected to open each year on the US market. The Big Four accounting firms are an economic force in the US market and globally. They generated $167 billion, out of which $56 billion was made on the US market, and employed 1.2 billion people worldwide in 2021.
The average annual salary for accountants was $77,250 per year, or $37.14 per hour, earnings that surpass the national average of $51,480 and leave room for an enjoyable life.
The top-performing accountants can earn over $100,000 to five and six-figure salaries. Those in the bottom levels still make a comfortable living with an income close to the national average.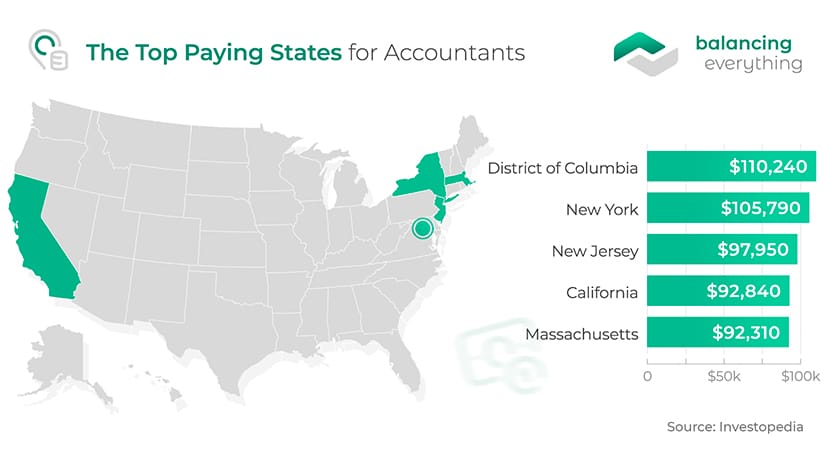 Accountants typically work full time, with longer hours during some periods of the year like the tax season or quarterly audits. Most accountants receive bonuses for their good performance, which range between 5% and 10% on average, or up to 20% at the higher end.
Degree in Accounting Jobs That Could Be Yours
The career options for accounting majors are endless. The US is expected to become home to 1.5 million accountants and auditors by 2028. If you have aspirations to join this promising crowd, below you can see just some of the exciting careers with an accounting degree.
Associate Degree Jobs
An associate degree in accounting will open the doors to entry-level positions like an accounting associate and give you the skills to adapt to any business environment. Here are just a few of the great careers you can pursue with an associate degree in accounting.
Bookkeeper
National average salary: $40,240/year
Bookkeepers' job is to keep track of every transaction in the organization and use that data to prepare financial reports. Their responsibilities might include payroll, invoice preparation, and following up on overdue accounts, to name a few. Bookkeepers often rely on double-entry accounting to perform their job.
Tax Preparer
National average salary: $51,080/year
Registered tax preparers help individuals and businesses who don't need a CPA prepare everything to file their taxes correctly and sign any tax income returns if required. While they should help clients minimize their taxes legally, they shouldn't rely on questionable creative accounting to avoid taxes.
Accounting Assistant
National average salary: $40,714/year
An accounting assistant or accounting technician is an excellent starting position for those interested in further building their skillset and advancing their career. Accounting assistants generally maintain financial records, monitor budgets, and prepare balance sheets. The responsibilities of this role may vary depending on the organization.
Payroll Clerk
National average salary: $46,663/year
As the name suggests, payroll clerks deal with payroll accounting which includes processing employees' salaries, bonuses, and tax withholds. These professionals ensure that everyone gets paid on time and that the payments comply with tax laws.
Auditing Clerk
National average salary: $44,419/year
Auditing clerks are in charge of checking financial documents for errors and ensuring accuracy throughout the accounting cycle. In case of significant discrepancies, auditing clerks are the first to alert the higher levels of management of possible fraud or any type of wrongdoing within the company.
Accounting Specialist
National average salary: $42,995/$44,402year
An accounting specialist may also be called an accounting payable or accounting receivable administrator. One person might perform these accounting major jobs in an organization. Accounts payable administrators ensure their organization pays the vendors on time and complies with government regulations. Accounts receivable administrators, on the other hand, ensure their organization gets paid on time by preparing and billing invoices to clients. When needed, account receivable administrators send reminders for late payments.
Bachelor's Degree in Accounting Jobs
A bachelor's degree will allow you to score jobs for accounting majors that pay well. It will also act as a solid foundation for future education and career growth. Some of the jobs you can score with a bachelor's degree include:
Staff Accountant
National average salary: $58,640/year
A staff accountant or accounting analyst might have similar responsibilities as a bookkeeper but typically boasts more specialized knowledge in areas like taxation and auditing. They are responsible for overseeing the company's finances and providing ideas on improving efficiency and reducing expenses.
Management Accountant
National average salary: $65,747/year
Management accountants are in charge of improving the organization's overall financial health. They use their expertise to give strategic recommendations and help performance managers implement those recommendations in compliance with the regulations. Management accountants may also help organizations identify new investment opportunities.
Budget Analyst
National average salary: $71,202/year
A budget analyst is one of the jobs that require an accounting degree that allows you to work hand in hand with project and program managers to develop the company's long-term budget. They also ensure that all sectors within a company respect the budget constraints and use the dedicated finances most efficiently.
Financial Analyst
National average salary: $83,660/year
If you are thinking about accounting vs. finance, the latter might bring more dynamics into your work life. Financial analysts are monitoring and analyzing economic happenings and trends. They use this data to help businesses and individuals make the right financial planning decisions. They can create and diversify portfolios and recommend individual investments. For serious investments, they can even meet with the company's officials and ask to review their financial stability, long-term goals, and anything relevant before recommending to investors where to put their money.
Internal Auditor
National average salary: $75,244/year
Internal auditors look at the bigger picture and ensure that all business procedures go in the right direction and comply with regulations. These professionals examine all departments, communicate with all the users of accounting information, and prepare guidelines for improving everything from internal controls to risk management practices. They typically work in large enterprises.
Loan Officer
National average salary: $101,299/year
Loan officers work with both individuals and businesses, and are sometimes employed by payday loan outfits. Their job is to analyze borrowers' finances and decide whether they should get approved for a loan. They consider factors like income, credit ratings, balance sheets, and more to determine their ability to pay the loan. They guide the applicants through the entire process and ensure that the agreement complies with the laws once the loan is approved.
Master's Accounting Degree Jobs
A master's accounting degree will take you to higher and better-earning positions. Here are some great accounting jobs you can perform as a master accountant:
Certified Public Accountant (CPA)
National average salary: $119,000/year
Certified public accountants undergo a comprehensive exam to get this sought-after title. It's one of the best jobs you can get with an accounting degree, as there's always a demand for CPAs. Each company is obligated to prepare financial reports after the closing month of the accounting year and submit them to the Securities and Exchange Commission (SEC). Besides preparing the financial statements, CPAs also represent clients before the Internal Revenue Service (IRS). They can provide auditing and consulting services.
Chief Finacial Officer (CFO)
National average salary: $119,000/year
CFOs work on developing fundraising and financing strategies for companies. They also keep the organization's finances in order and analyze financial data to determine future actions that will benefit the business. CFOs work hand in hand with the executive team on building business strategies that will support the company's growth in the long run. It's one of the highest-paying business accounting degree jobs that requires senior-level knowledge and experience.
Forensic Accountant
National average salary: $78,793/year
Accounting fraud statistics point to financial statement fraud as the most expensive occupational fraud. Forensic accountants come to the rescue when an organization has doubts about wrongdoing within its ranks. These professionals specialize in detecting fraud and preparing recovery strategies. They may also participate in legal battles as expert witnesses.
Corporate Controller
National average salary: $136,875/year
Corporate controllers are concerned with anything cash flow and corporate accounting. They maintain accounting records, conduct financial controls, ensure compliance with laws and regulations, and manage the work of other specialized accountants. They can also help CPA companies with tax reporting.
Alternative Careers for Accountants
An accounting degree or an MBA in accounting can give you valuable knowledge and skills that you can use in almost every industry, from information technology to consulting. If working as an accountant doesn't spark joy anymore, here are some jobs for accountants who don't want to be accountants where you can still use your hard-earned accounting degree:
Entrepreneur
National average salary: N/A
An entrepreneur is possibly the sexiest title in the world of business today. In the top tiers, their salary may hit six to eight figures, their schedule is flexible, and they work whenever and as much as they want. Reality check: it doesn't always work that way.
Even though it is not one of the jobs that require an accounting degree, a degree and experience in accounting provide a solid foundation to hop on the entrepreneurship train. As an accountant, you get a chance to connect with the right people, detect product and service gaps, and overlook business operations. You can, without a doubt, employ this knowledge and network to run your own company.
CEO
National average salary: $106,661/year
Becoming a CEO is a fantastic opportunity to use your accounting and finance skills to grow a business. It allows you to experience entrepreneurship without the burden of investing your own money. This career path typically requires rich experience, knowledge, and strong technical and soft skills. The responsibilities include making critical decisions daily, overseeing the entire company, from resources, and finances to operations, and communicating with board members, stakeholders, and managers.
Financial Writer
National average salary: $58,571/year
Every business strives to build a powerful presence in today's digital jungle. You can use your knowledge and experience in accounting to help companies, publications, TV stations, media outlets, and everyone in between put up valuable content to keep their audiences engaged. This content can range from educational to promotional to accounting advice. It's one of the jobs accountants can do outside the office, and still share their expertise while embracing their creative side.
Medical Biller
National average salary: $35,217/year
Medical billers work in hospitals and healthcare facilities, submitting claims to insurance companies. Their responsibilities include confirming patients' eligibility for treatment, getting authorizations for procedures, processing and reviewing bills, collecting information, using billing software for claim submission, patient communication, and resolving unpaid claims.
Communications Specialist
National average salary: $41,775/year
Communication specialists are in charge of an organization's public and media relations. Their responsibilities may include organizing press conferences, interviews, seminars, and other events, handling media requests, creating content for press releases, and preparing advertising, marketing, and social media materials. All these responsibilities require strong organizational skills, budgeting, communication, and other skills that accountants typically develop through their studies and work experience.
Private Investigator
National average salary: $57,100/year
A private investigator could be an exciting job opportunity for the accountant who's had enough of the predictable office life. It's not one of the jobs that require an accounting degree, but an accountant's attention to detail and organizational skills can help any private investigating case. Private investigators must have a firm grasp on the law, as their cases often involve unwrapping legal issues, insurance fraud, internet crimes, finding missing people, etc. This role is dynamic and involves lots of research, including performing background checks, having interviews with different people, monitoring movement, finding confidential information, etc.
Sales Representative
National average salary: $73,778/year
A sales representative is the connection between a business and its customers. Their job is to establish relationships with existing customers and recruit new ones by demonstrating how the product solves a problem and addressing questions and concerns. You can use your background in accounting to forecast sales, manage resources, turn your network of clients into prospective customers, etc.
Financial Advisor
National average salary: $74,761/year
Financial advisors work with individuals and organizations, helping them achieve their financial goals. They overlook the clients' finances, listen to their needs, and advise them on the best ways to earn and save money. Their expertise could span different areas, from insurance plans and homeownership to investments, taxes, and more.
Consultant
National average salary: $66,245/year
Individuals and businesses can benefit from an accounting consultant as they offer expert advice, solutions to problems, strategies for future actions, etc. Consultants specialize in certain areas and work alone, for other firms, or in agencies. It's one of the alternative careers for accountants that will allow you to meet new people and build a strong business network.
Business Analyst
National average salary: $82,143/year
Business analysts employ technology to generate success and solve problems cost-effectively. They typically work with the higher levels of management and stakeholders to address issues, detect opportunities, and advance the business. The responsibilities might include data analysis, testing new things to improve processes, budgeting, reporting results, etc.
Real Estate Agent
National average salary: $104,256/year
Real estate agents help clients buy, sell, and rent properties. They meet with clients to learn their needs, then research the market to find properties that fit their demands. Then they show them the properties, negotiate offers, and take care of the paperwork. Real estate agents must keep themselves up to date with property laws and the situation on the market. While the role itself doesn't require a college degree, you can gain a substantial competitive advantage among job seekers with a degree in business, finance, or accounting. Accountants can also work in real estate accounting.
Information Technology Accountant
National average salary: $79,813/year
IT accountants develop and manage accounting software systems that centralize, organize and protect financial data. These systems can also correct human errors and are typically used to ensure that everything runs smoothly and efficiently.
Investor Relations Manager
National average salary: $80,585/year
An investor relations manager is the link between an organization's management and its shareholders and investors. These professionals present critical financial data like earnings, press releases, and news to investors, answer their questions, address their concerns, and gather feedback, among other responsibilities. They can also help the company manage a period of crisis.
Requirements, Qualifications, and Skills
To kickstart an accounting degree career, you need at least a bachelor's degree in accounting or business. It takes around four years and 120 credits to attain this degree. If you want to test accounting degree career paths before committing, an associate degree could be a suitable option as it takes two years to complete and opens doors to careers such as bookkeeping and accounting clerk. These entry-level positions can give you a solid foundation for further career advancements.
More rewarding job opportunities await those willing to put in the extra effort. For instance, passing the CPA exam, which requires a minimum of a bachelor's degree in accounting or business and 150 credits, can set you up for jobs in accounting like tax accounting, management accounting, financial accounting and reporting, and internal auditing. Data, however, show that students with a master's degree have better chances of passing the exam. Many students decide to complete their master's studies and build a stronger foundation before signing up for the CPA exam, which consists of four parts and needs to be completed within 18 months from passing the first exam. To obtain a license, candidates must have a certain period of experience in the field, which could vary from state to state.
Those with master's and Ph.D. degrees in accounting can secure the most lucrative jobs in accounting like accounting manager, corporate controller, financial analyst, professor, and more. These accounting major jobs require deeper specialization and possibly certifications.
Skills Required to Secure a Successful Accounting Degree Career
Top accountants combine technical knowledge with a set of soft skills. Learning the ins and outs of the accounting world is just one side of the coin. Deep accounting expertise along with excellently developed people skills gives the best results.
Technical Skills
There's a great variety of jobs for accounting majors, and each one of them demands a unique set of skills. That said, to build a successful career in accounting, you need at least these technical skills under your belt:
Understanding accounting practices
Understanding general business practices
Preparing financial statements
Proficiency in accounting software
Critical thinking
Data analyzation
Industry knowledge
Working in spreadsheets.
Soft Skills
Being a great accountant is not only about mastery of the technical stuff. Opposite of the popular opinion that accountants work alone, their duties typically involve regular contact with clients, management, and employees. For that reason, accountants must develop the following soft skills:
Time management
Organizational skills
Communication skills
Collaboration skills
Learning and adapting
Industry knowledge.
Accounting Degree Jobs FAQs
What jobs can you get with an accounting degree?
Jobs you can get with an accounting degree include:
Bookkeeper
Tax preparer
Accounting assistant
Payroll clerk
Auditing clerk
Accounting specialist
Staff accountant
Management accountant
Budget analyst
Financial analyst
Internal auditor
Loan officer
Certified public accountant (CPA)
Chief financial officer (CFO)
Forensic accountant
Corporate controller.
What else can I do with an accounting degree?
There are many accounting degree career paths that are not accounting. Alternative careers you can get with an accounting degree include:
Entrepreneur
CEO
Financial writer
Medical biller
Communications specialist
Private investigator
Sales representative
Financial advisor
Consultant
Business analyst
Real estate agent
Information technology accountant
Investor relations manager.
What is the highest-paid job in accounting?
Corporate controller, CPA, and CFO are among the highest paying jobs with an accounting degree.
Is accounting a good career?
Accounting is an excellent career for someone with strong organizational skills and good at math. It's a stable choice with above-average earnings and lots of opportunities for advancement.
How stressful is accounting?
This is one of the most stressful industries to work in as it involves money which is a sensitive topic for businesses and individuals. Over 90% of people working in careers with an accounting degree report being stressed by work, with 43% reporting they must take time off due to the stress they're experiencing at work. Just two percent of accountants are not affected by work-related stress.
Do accountants make a lot of money?
There are different types of accounting jobs and salaries. Accountants typically earn an above-average salary which provides a comfortable life. Over time they can accumulate wealth and use the capital to invest in other assets that will bring them money. Some top earners that work accounting jobs that pay well make high five or six figures a year. Such high-paying accounting degree jobs are typically available to the best senior accountants.