Average Mortgage Debt – A Complete Rundown
Americans are drowning in debt, and the largest share comes from mortgages. The country's average mortgage debt is over $215,000, and the segment has been on the rise for years now. Yet, not every American owes the same balance when it comes to mortgages. Buying a house in some states is much cheaper and, therefore, the average debt there is much lower. Mortgage debt also differs among generations and even genders. Would you like to learn all about the average balances owed for mortgages across the US and other developed economies? If so, you've come to the right place.
Mortgage Debt in the US
In 2019, the average American mortgage debt was $213,599. This figure increased to $215,655 or by nearly 1% (0.96%) in 2020. If we go further back, the difference is a bit higher. For example, in 2015, the average balance owed for mortgages was $184,323. Meaning, the five-year increase in the segment was a considerable 16.99%.
As for the total US mortgage debt, it got dangerously near $10.76 trillion in early 2021. In comparison, the total consumer debt in the US during the same period was significantly lower at $4.19 trillion.
Mortgage Debt by Demographics
It's important to understand that the average mortgage debt drastically varies by state, age, gender, and even credit score.
Average Balances Owed by Age
Americans in their prime owe the most in mortgage debt. These people, alongside Millennials and Gen X residents, are the most likely home buyers at the moment. Gen Z Americans are still too young to invest in homes. Boomers and the Silent Generation, in contrast, have already paid a significant share of their mortgages.
In the table below, you can find mortgage debt data for different generations. The table also compares how the average mortgage debt by age has changed between Q1 of 2019 and Q1 of 2020. You can also see which generation's debt has increased the most.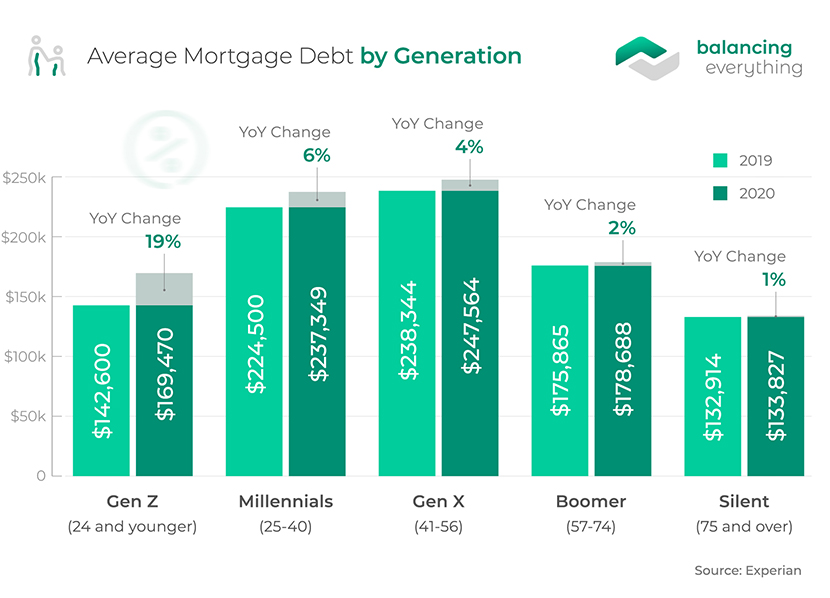 Gen Z Americans noted the highest increase in average mortgage balance by age from $142,600 to $169,470 or 19%. There was an increase of 6% from $224,500 to $237,349 among Millennials/Gen Y. Baby Boomers and those from the Silent Generation noted average debt increases of minor 2% and 1%. GenXers meanwhile experienced a 4% rise during the reported period.
We want to highlight that regardless of the generation, there's been a notable increase in the total mortgage debt across all age groups. As you may know, the highest share of the average household debt of American families comes from mortgages. So, it's essential not to overlook its YoY changes.
Below, you will find details on how the total mortgage balances increased YoY, and over the past five years. The data is represented in billions of US dollars.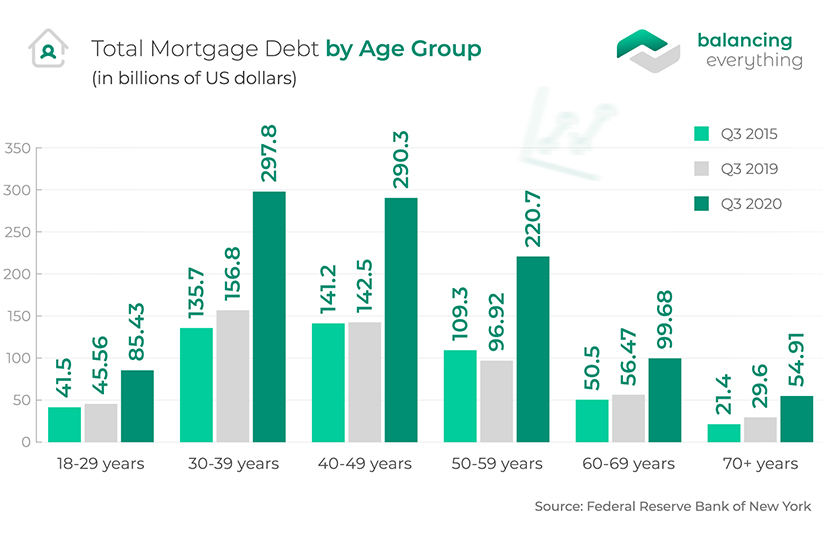 As you can see, mortgage debt has been increasing over the years. In 2020, it noted a significant jump in every age group. It, therefore, makes sense that the median mortgage balance by age has been increasing too.
Mortgage Debt by Gender
The average balances owed for a mortgage differ among American women and men. Younger women tend to carry lower balances than younger men. With middle-aged men and women, the first owe a higher average.
You can find the median mortgage balances among females and males in two different age groups in the table below.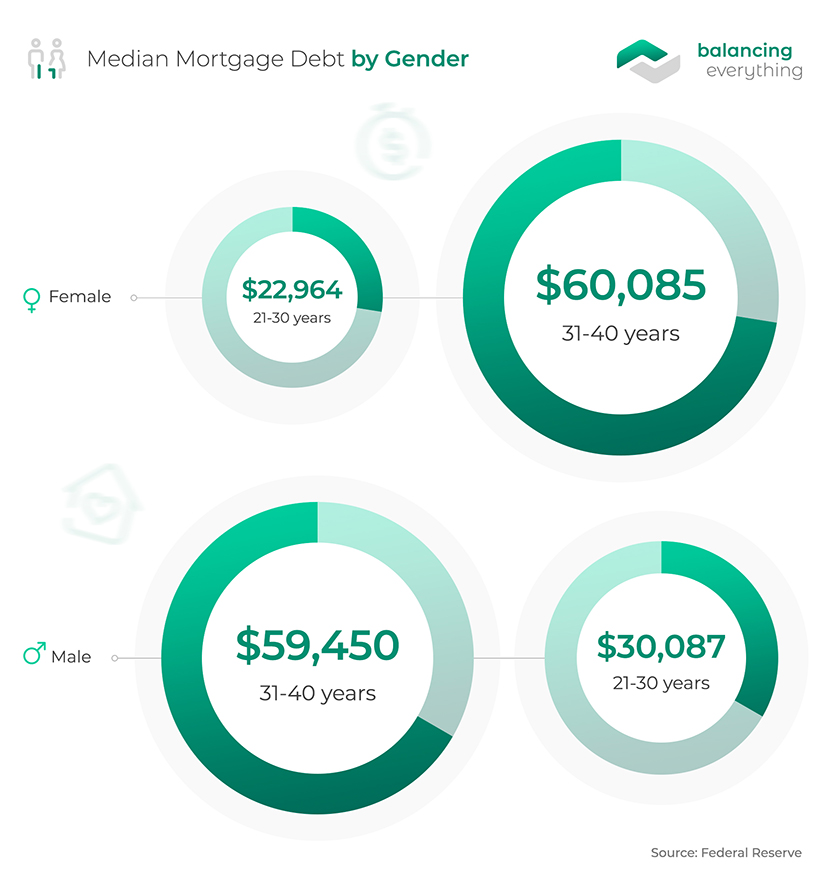 As you can see in the table, females aged 21-30 carry the lowest average US mortgage debt. Experts cite different reasons for this. Namely, the rejection rates among female applicants are higher. In most cases, mortgage borrowers are male, or the primary holder is male.
When we move to the older age group, 31-40, women owe more. In the US, about 24% of mortgage holders are female. Unfortunately, they often get worse conditions and higher fees. Female mortgage borrowers further tend to have lower incomes compared to males. This disparity in income versus mortgage contributes to higher average debt.
Mortgage Debt by Race
Asians and African Americans have the highest average debt to income ratio for mortgage but also for other segments. According to Zillow's research from 2012, these are the loan value to annual income ratios by race.
All applicants – 2.72
White applicants – 2.19
African American applicants – 2.46
Asian applicants – 2.75
Hispanic applicants – 2.78
The rates offered to different consumers are also interesting. Asian and white Americans are most likely to get better rates, while Hispanics and African Americans get worse rates. So, it makes sense that the average mortgage balance in the US among consumers from a particular race is lower. For example, 50% of Asian mortgage holders have rates under 3.9%. In contrast, only 31% of African Americans and 35% of Hispanic mortgage holders have the same rates.
The Zillow Home Value Index, with race weighted, was the highest for properties owned by Asian Americans. While the overall ZHMI was about $168,900, Asian-owned homes had a ZHMI of about $402,500. This explains why the income versus average mortgage debt per household rate among Asian Americans was the second highest. The index of Hispanic, white, and African American-owned properties was $251,500, $242,800, and $173,700.
As for the median income, Americans had a median income of $56,000. At $77,000, Asian residents had the highest median income by race, while white Americans came in next with $62,000. Hispanic and African Americans had the lowest median income of $43,000 and $39,000. Meaning, these households got the worst rates and made the least money.
Average Mortgage Debt by State
In our thorough guide on the best places to invest in real estate, DC, Hawaii, and California boast the highest median home value countrywide. West Virginia, Mississippi, and Arkansas are the states with the lowest-valued homes. Why does this matter here, you may wonder. It makes sense that homeowners will owe more money in mortgage balances in the states where houses are expensive.
In the table below, we have listed all the states and their average mortgage balance. According to Experian's latest report, we also included the mortgage debt from 2019 and analyzed the YoY change.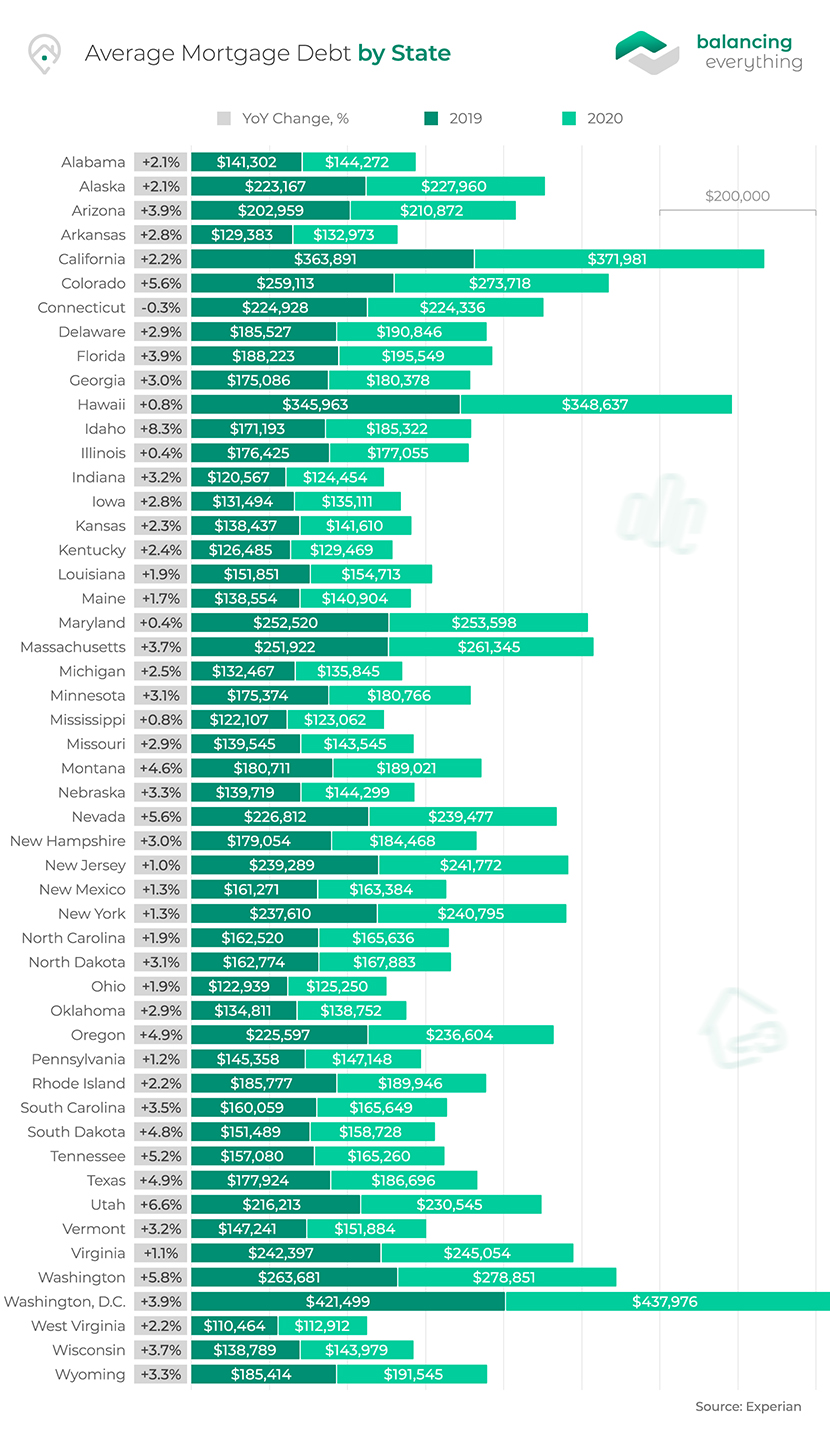 DC residents carried the highest mortgage balances in both 2019 and 2020, or $421,499 and $437,976. The average mortgage balance in California of $371,981 came in second, followed by Hawaii and its average balance of $348,637. These three states traditionally have an expensive real estate market and high mortgages. Hence, these findings were expected.
States with the highest average mortgage debt:
DC – $437,976
California – $371,981
Hawaii – $348,637
Washington – $278,851
Colorado – $273,718
Moving on to the states with the lowest mortgages, we have West Virginia at the bottom. The average amount owed for a mortgage here was $112,912 in 2020, up from $110,464 in 2019. Indiana and Mississippi were two other jurisdictions with low average mortgage debt. Their respective averages were $124,454 and $123,062.
States with the lowest average mortgage debt:
West Virginia – $112,912
Mississippi – $123,062
Indiana – $124,454
Ohio – $125,250
Kentucky – $129,469
The difference in average mortgage balances between DC and West Virginia is a whopping $325,064, or an impressive 75%.
YoY Change in Average Debt for Mortgage by State
California and DC have always been expensive destinations in terms of home prices. Hence, these states didn't note a significant YoY increase in the average mortgage balance by state. In this segment, the leaders were Washington, Utah, and Idaho.
The top five states with the worst YoY change in average debt for mortgages are:
Idaho – 8.3%
Utah – 6.6%
Washington – 5.8%
Colorado – 5.6%
Nevada – 5.6%
Connecticut was the only state to note a negative YoY change between 2019 and 2020, with its average debt having dropped from $224,928 to $224,336.
Here are the top five US states with the best YoY change in average mortgage debt:
Connecticut – -0.30%
Illinois – 0.40%
Maryland – 0.40%
Mississippi – 0.80%
Hawaii – 0.80%
Mortgage Balances Owed Worldwide
The US isn't the only country whose residents are struggling with mortgage debt. Homeowners in developed economies also owe huge balances for their houses and apartments. Below, we analyzed the mortgage debt in the UK, Canada, and Australia.
Mortgage Debt in the UK
Brits are in a better position than Americans with a mortgage, as the average mortgage debt in the UK in 2020 was £137,934 (about $184,276). As for the country's average house price, UK homeowners pay £227,283 or about $303,064. In 2019, Brits borrowed more than £257 billion for mortgages. The outstanding mortgage debts in the country in Q1 2020 were £1.5 trillion or about $2 trillion. This figure was higher than the previous year by 3.9%, signifying an increase in the overall mortgage debt in the Kingdom. In the country, there are nearly 11 million outstanding mortgages.
Mortgage Balances in Canada
The average mortgage debt in Canada is CA$132,184 or about $101,678. The country notes an interesting correlation between homeowning and debt. Namely, families with mortgages represented 39% of the total population and 58% of all Canadian debtors. The country's average outstanding debt is CA$161,200 per person, and mortgage debt makes for 82% of this amount.
The average Canadians owe for mortgages differs depending on the city and province. Even in the same province, the house prices and mortgage sizes vary. For instance, let's go over the average mortgage debt in Ontario and several cities there. The average mortgage loans in Toronto, Ottawa, and Hamilton were CA$271,830 ($208,833), CA$214,976 ($165,155), and CA$156,821 ($120,477). As you can see, in the same province, the average mortgage in one city is higher by nearly $89,000 compared to another city.
Mortgage Debt in Australia
Australia's property market is worth AU$8.1 trillion or about $5.9 trillion. The total mortgage debt in the country is AU$2.1 trillion or about $1.54 trillion. Approximately 37% of homeowners in Australia have a mortgage. Among these people, the average mortgage debt in Australia is AU$456,000 or about $335,748.
As you can see by these numbers, Americans aren't in the worst situation regarding mortgage debt. The country is way ahead with its average credit card debt. Yet, there's at least one country whose average mortgage balance is higher than the one in America.
The Bottom Line
With the US total mortgage balances nearing $10 trillion, mortgage debt is among the most serious issues Americans have. The average mortgage debt has been on the rise, too, and it surpassed $215,000 in 2020. Note that not all residents owe the same average. The difference between the highest and the lowest state mortgage debt is over $300,000. So, many things depend on where applicants live, how old they are, and how much money they make.
References: Experian, Federal Reserve Bank of New York, Statista, Statista, Finder, Illion, Zillow, Yahoo Finance