Average Wedding Cost – A Complete Rundown
Are you planning to tie the knot and would gladly learn and apply methods to create a realistic budget? Undoubtedly, saying 'I do' seems much more manageable than projecting the overall wedding budget and sticking to it. While the COVID-19 pandemic reduced the average wedding cost to about $19,000 in 2020, it's still a considerable expense. Being realistic about your wedding budget is the first stepping stone to avoiding potential mistakes, which will only increase your jitters before tying the knot.
Average Wedding Cost in the US by Year
The average US wedding cost depends on various factors. From the number of guests to the type of flowers, even the slightest change can cost you a lot. The average wedding cost for 50 guests, for instance, will be much lower than the one for a ceremony for 200 guests. In 2019, the average number of guests was 131 per wedding. So, the estimates of an average American wedding cost below are based on that figure.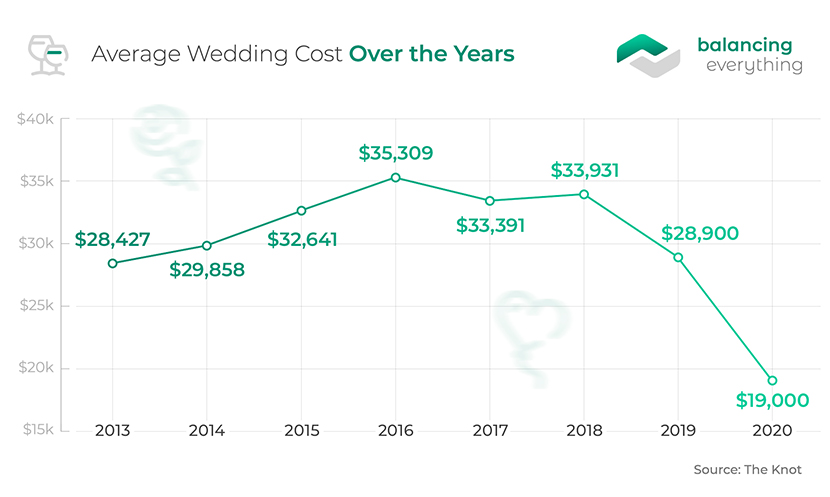 As you can notice, the average wedding expenditures were on the rise before registering a fall in 2019. In 2013, Americans paid about $28,427, with this number jumping to $33,931 in 2018. A particularly notable decline happened in 2020, largely fuelled by the COVID-19 pandemic. From the average wedding dress cost to the average wedding cake cost, all expenditures just keep growing.
As for the total cost of an average wedding, some 80% go to the ceremony. These expenses include the average wedding venue cost, average wedding DJ cost, and other reception-related expenditures. About $6,000 is usually the average wedding ring cost. It's also notable that couples spend an additional $5,000 for their honeymoon.
Keep in mind that the average cost of a small wedding is much lower. If the average wedding reception cost for 131 people is $28,000, the average price per guest is about $214. Shortening your guest list by 50 people, therefore, will save you an impressive $10,700. Having fewer guests can decrease the average cost of a wedding venue as you can have the ceremony in a smaller space. It will further cut down the average wedding food cost.
Average Wedding Cost by US State
So, you've finally decided to walk down the aisle, but you're still not quite sure about the type of reception you prefer. Or even what state to choose? Well, it always helps to know the average wedding cost by state.
Let's imagine you're eagerly looking forward to your dream day in Los Angeles. The average wedding cost in California requires deep pockets and an eye for detail in case hosts want to stay within budget. It's one of the most expensive states, so the average wedding cost per person is nearly $400.
If you live in Illinois, an average wedding cost in Chicago in the metropolitan areas will require upwards of $20,000.New York City is undoubtedly the most extravagant city to organize a marriage reception. Though averages can be misleading, most newlyweds have planned about $48,600 for an average wedding cost in NYC. On the other hand, the average wedding cost in Texas stands at less than $20,200.
Let's analyze the best and worst destinations regarding the average cost of a wedding on their territory. The destinations with the lowest average wedding cost by state are:
Arkansas – $12,426
West Virginia – $12,498
Mississippi – $13,399
Kentucky – $13,537
Oklahoma – $13,881
The destinations with the highest average wedding cost by state are:
Massachusetts – $30,489
New Jersey – $30,357
Connecticut – $29,499
DC – $27,965
New Hampshire – $27,074
So, it would seem that a good part of the Northeast might not be the best choice for a destination wedding budget-wise.
Average Wedding Cost by Vendor
Your marriage ceremony goes beyond the average wedding tent rental cost or the food and beverages expenses. US weddings come with the expenses for photographers, florists, wedding cakes, and invitations. Let's not overlook the average cost of wedding hair and makeup either. The average cost of wedding makeup in 2019 was about $100, while hairstylists charged an average of $110.
In their annual report on wedding costs, The Knot listed the average expenses for various vendors. Keep these in mind when you start planning your wedding.
Average Wedding Dress Cost
Most brides dream of a top-tier gown with lace, trains, and tiaras. As a result, the final cost of such an emotional piece of clothing can be jaw-dropping, sending the average cost of a wedding higher. Estimates show that about 9% of every wedding budget goes to newlyweds' attire and accessories.
Of course, the central part of this amount goes for the gown. The average cost of a wedding dress is approximately $1,218, excluding the accessories. Items like shoes, jewelry, headband, veil, handbag, tiara, and other extras add about $200 more. Admittedly, this amount can vary depending on the brand and rarity of the piece.
The additional expenses should not get neglected if polishing the bridal look is at stake. Such items may include gloves, a second pair of accessories or shoes, accessories for the bridesmaids, and shipping costs. Then, depending on the groom's choice, an average suit would cost between $200 and $500. The average wedding tux rental cost is about $200, but designer tuxedos tend to be way more expensive.
A lot of brides opt for an inherited wedding dress, both for sentimental reasons and in an effort to bring down the cost of an average wedding. Note that the average cost of wedding dress alterations sits somewhere between $300 and $800. Bridal boutiques charge by the hour, so the more alterations you ask for, the higher the bill. Bridal boutiques also calculate alterations to newly purchased gowns on top of the initial price.
Average Cost of Wedding Makeup
Brides consider hairstyling and overall makeup an essential aspect of their wedding day. So, they make sure to book the best available stylists in the area. According to many specialists in the field, the average cost of wedding hair and makeup stands somewhere at $225. This amount doesn't include the price of any manicure and pedicure. Such a regular bridal package would cost about $57. Again, prices drastically vary depending on where you live and whether you use the services of famous makeup artists and hairstylists or not.
Average Wedding Ring Cost
In 2020, the average cost of a wedding ring was about $5,500. Note that 25% give between $1,000 and $3,000, while about 11% spend under $1,000. Put differently, over one-third spend under $3,000 on a wedding ring. As for the wedding bands, the average female wedding band costs $900, while the average wedding male band is about $500.
The wedding ring cost varies in different US regions. Americans living in the Southeast spend the least money on a wedding ring (about $5,250). Those located in the Mid-Atlantic, by contrast, pay the highest average for a wedding ring of about $7,600.
Average Wedding Cake Cost
No big day can go through without the sweetest addition — the wedding cake. US couples spend $370 on average for a well-designed dessert and a cake service at the reception for up to 150 guests. Clients who seek detailed decoration and unique shapes should raise the overall cost accordingly.
Still, the average cost of a wedding cake significantly depends on several factors such as tiers, ingredients, flavor, frosting, toppers, and customization. The more complex the dessert and the more preparation time it requires, the higher the final price. Making the cake a memorable piece of décor during the reception deserves spending a few more dollars per slice, even if it means a higher average wedding cost per person.
Last, even accompanying services at the reception like cake-cutting, delivery, a cake table, and platters involve extra fees. All costs combined, the average price reaches $528 for up to 150 people. Nowadays, renowned bakeries use the finest organic ingredients and unusual baking utensils to wow your guests. All the finishing touches bakers dedicate infinite time to bring to perfection additionally raise the price.
Average Wedding Photographer Cost
The average cost of a wedding photographer stands somewhere between $2,095 and $2,556 for photography only. Meaning, newlyweds get to pay an additional amount if they want to hire a videographer, too. As of date, the average cost of a wedding videographer reaches $1,500.
The standard packages include one photographer, and the final price depends on the hours of photography. The average cost for wedding photographers drastically increases for an extra photographer, photo booth, an engagement session, and albums.
Many people wonder why the average wedding cost of bridal photography reaches such high figures. The answer probably lies in the expensive equipment and the hardware and software photo studios used to refine the photos. In a nutshell, wedding couples spend about 12% of the total planned budget on images and videos.
Average Cost of Wedding Flowers
Undoubtedly, fresh flowers and other décor can quickly add up when it comes to the final cost. Note that the average wedding florist cost usually stretches up to $2,500 depending on several factors. In 2020, the average cost of wedding flowers was about $2,000. About 8% of the budget would cover the average cost of flowers for a wedding. Such a portion of your wedding budget entails decorations, flower arrangements, bouquets, and unique lighting.
For those who want to save on flowers, fresh and locally grown blooms can do the job. Then, the average cost of a wedding bouquet ranges between $175 and $250. The bridal bouquet price will depend on the size, the number of flowers, and complexity.
Moving on to the reception, the average cost of wedding centerpieces is $341. This amount includes a floral decoration for each round guest table and other small decorations. So, if you want to slash the cost of décor, opt for less expensive and rare flowers.
If you're going to keep the average cost of wedding decorations lower, go with a package that includes all decorative items. It's best when the same company takes care of photo backdrops, ceremony décor, flowers, and centerpieces, as they can give you a discount and bring down the average cost of a wedding.
Average Wedding DJ Cost
When planning to hire a DJ to amuse the crowd, ensure it fits your budget with approximately 7%. We suggest this percentage as the average cost of a wedding DJ sits somewhere at $1,292. Alternatively, ceremony musicians will further reduce the expense as they usually charge $800 per event.
A reception band can work wonders for those who want to leave a striking impression on their guests. Still, an average wedding band cost will cause newlyweds to spend approximately $4,247.
To summarize, having a live band translates to significantly increased spending figures. Therefore, opt for a DJ or similar to economize without necessarily compromising the entertainment of guests.
Average Cost of Wedding Venue
The most significant part of the wedding budget will go towards renting out the venue space. More specifically, the average wedding reception cost will take up to 50% of the event's total planned funds. The percentage is high as it usually includes location, rentals, food service, and accessories.
The average cost of a wedding venue, including catering and additional benefits, ranges between $12,000 and $18,000. The final figure will most likely depend on the type of venue, equipment, ancillary services, etc.
For instance, newlyweds should set aside about $1,200 for an average wedding tent rental cost. The price entails a 30′ X 40′ tent rental that can freely accommodate 150 people. Couples must pay extra for items such as globe lights, walls, dance floors, or subflooring.
Outdoor weddings held at your private property or a public spot tend to be cheaper. The average cost of a backyard wedding ranges between $4,000 and $10,000 for a mid-range reception. Since couples do not pay for the venue, a decent backyard celebration can slash the average wedding cost in half.
Average Wedding Food Cost
Calculations show that the average wedding catering cost per person stands at $51. For a fancier wedding, the figure can easily exceed $100 per plate. Having the crowd well-fed and pleased is essential, so make sure you hire a professional caterer with various dishes. All in all, the average wedding catering cost for 150 guests should deprive you of $7,650.
In case you go with a buffet-style for the big day, consider the food cost relatively decreased. Meaning, for about 150 guests, it's best to serve about 120 platters to feed them properly. The average cost of a wedding catering buffet, in this case, would be $27 per person. Still, the price depends on the type and size of the dishes served, the caterer, and the food presentation.
Plus, there is no getting around alcohol since it gets served at a vast majority of marriage receptions. The average cost of alcohol for a wedding stands somewhere at $2,564, and this entails all liquors that guests can enjoy. Indeed, alcohol expenses add up quickly regardless of whether couples opt for an open bar or a simple champagne toast and push the average wedding cost per person higher.
In short, the average cost of alcohol for a wedding of 150 caps at $4,500. Such calculations assume that every attendee will consume six drinks, which is an overestimation on the safe side. To this end, make a list and procure at least 100 bottles of wine, 250 beer cans, and 22 bottles of hard liquor.
Average Cost of Destination Planning
No doubt a marriage ceremony by the ocean sounds romantic and memorable. Still, making the whole thing work may not be that simple and cheap. Estimates show that the average beach wedding cost is about $5,000 for a local public beach and an abbreviated guest list. However, an exotic destination celebration might exceed $25,000.
Although experts safely conclude that beach destinations are way cheaper than traditional ones, be aware of the traps. For instance, the average cost of a Disney wedding exceeds $7,000, but the price significantly varies. Couples must consider what the offered package includes, for what period, and for how many guests.
When doing the math for the occasion, it's advisable to calculate the gifts you expect to receive. The average wedding gift cost of a close friend is approximately $100, while family members' gifts can reach $150. Bear this valuable information in mind to offset the initial wedding projections.
Ancillary Services
Not taking the side fees into account when calculating the cost of an average wedding is an enormous mistake that can make a big dent in your financial plans. Therefore, take ultimate caution to insert extra services in the overall budget. Note that the average cost of a limo for a wedding ranges from $70 to $150 per hour. Renting a limo can go up to $1,000 for the whole night.
Also, wedding invitations are a unique way to say how you appreciate your guests. These special cards are the first glimpse into your big day. Consider that the average cost of wedding invitations sits somewhere between $400 and $650.
Moving on, don't forget about the services provided by wedding planners. The average cost of wedding planners is about $1,800, with professionals charging up to $4,000. On the one hand, planners get involved in the whole process and give insight into possible savings. On the other, their prices for something you can do on your own are quite absurd.
Last, put the civil officiant fee in the marriage calculations. The average cost of a wedding officiant varies from $500 to $800 depending on several factors, including a possible custom script, whether you like a rehearsal or not, and premarital counseling.
Average Wedding Cost by Type
The average cost of a destination wedding was about $32,000. In contrast, hometown weddings cost about $27,000. Still, the average cost of a backyard wedding beats everything at about $14,410. As you can see, the type of marital ceremony seriously affects the total cost you'll pay for it.
Note that national traditions and such can also impact the overall cost. Planners estimate that, for example, the average Indian wedding cost for 300 people in a five-star US hotel is roughly $250,000. Meaning, an exclusive Indian wedding in the US can cost about $833 per person. In case couples go with a less expensive venue and a suburban location, the expenses will drastically decrease.
In the annual Newlywed Report, we found the average cost of a wedding by category. The trends reveal that couples spend much less on their second marriage. It's also evident that Generation X couples tend to have lower wedding costs compared to Millennials. The wedding cost difference between same-sex and opposite-sex couples meanwhile is minimal.
Five Typical Wedding Mistakes Couples Make
Overall, the average wedding cost by year tends to increase each season. Boosted expenses are usually due to couples having more refined requirements and wedding companies continually raising their charges. The following five are some of the most common errors that happen during wedding planning.
Wrong allocation of funds. Have a proper financial plan with the average wedding cost breakdown for the most and least essential segments. Also, assign 5% of the budget for "just-in-case" expenses.
Not determining who pays for what. Don't hesitate to ask your folks how much they're willing to contribute. Then, make a detailed list of expenses and which family member is going to cover what.
Not saving on minor details. The cost of an average wedding can go over the moon if you don't cut down on non-essentials. Think about a smaller car and less expensive flowers and decorations. Also, skip the special effects, simplify the menu, and forget about irrelevant cake extras.
Neglecting the tracking of expenses. If not manually, an online wedding budget calculator can be of much use. Focus on hidden costs and amenities such as tips, overtime, service fees, and decorations that quickly add to the final figure. Consider withdrawing money from the same account to keep track of expenses and use rewards and cashback.
Not being realistic. Most couples avoid the in-depth analysis of charges and then are appalled at the sight of the overall spending. Focus on the average cost of wedding favors and have each segment priced and appropriately planned.
Five Ways to Lower the Average Cost of a Wedding
Being flexible about certain aspects of your big day can genuinely reduce the overall cost. Consider the following ideas to stay within budget:
Organize the celebration in the off-peak season. If you're willing to trade in the lovely sunny weather for a significantly lower price, then go for it. It's a fact that caterers, photographers, and all other wedding facilitators charge more reasonable prices in the off-peak months. So, probably January and February will do your wallet much good.
Avoid the weekend. Everybody would like their special day to be on a Saturday, but this comes with a higher price tag, too. So, there's nothing wrong with moving the ceremony to a Sunday or even to a midweek day. Make sure it doesn't coincide with a holiday, and you can save some serious cash, indeed.
Try suburban reception venues. Metropolitan areas and fancy restaurants cost over the moon. Alternatively, a nice romantic spot in the outskirts can save the day.
Reduce the number of guests. Trimming the guest list is far from an easy endeavor. Still, an average wedding cost for 50 guests will soothe your financial concerns. Such a marriage ceremony requires about $4,500, and this won't break the bank.
Don't hire pros. Having a cool bartender and some expert decorators isn't essential. Professional services cost way too much, so arranging with a couple of close friends to lend you a hand is a smart move. Helping buddies combined with a trimmed guest list will leave you with an acceptable average cost of a small wedding.
Finding the Perfect Spending Balance for Your Wedding
Getting hitched is the beginning of a whole new world of responsibilities. Couples realize this when they see that the average wedding cost for a dreamy ceremony is far from reasonable. The pressure from friends, relatives, and social media may further boost your spending plans and expectations. That's why knowing what kind of marriage service you like is of utmost importance. Stick to the essentials and avoid overspending on items you don't find crucial. After all, the wedding ceremony is just the first significant expense you will have as a family.
References: Newlywed Report, The Knot, Event Planning, Dowling & Yahnke, ValuePenguin