Banking Stats
Banca Monte dei Paschi di Siena is the world's oldest operating bank, having opened back in 1624. As the banking stats below show, many things have changed in the lucrative banking industry ever since. These days, the sector's global market capitalization stands at $8.91 trillion. Being an inseparable part of our lives, banking is evolving alongside technology. So, rather than waiting in lines, more and more people choose to handle their accounts online or via mobile devices, especially amid the Covid-19 pandemic.
Banking Stats (Editor's Choice)
The global banking industry hit $2.48 trillion in 2021.
By 2026, the global online banking industry is estimated to reach $20.5 billion.
Americans hold an average of 5.3 bank accounts.
161.1 million Americans used online banking in 2019.
There were 4,518 commercial banks in the US in 2019.
J.P. Morgan Chase is the largest bank worldwide by market cap.
General Banking Statistics
1. In 2021, the global commercial bank industry hit $2.48 trillion.
While this is an impressive figure, the banking sector ranked 7th compared to other leading industries. The global life and health insurance market topped the chart with its 2021 revenue of $4.38 trillion. Pension funds and oil and gas exploration sectors came in second and third, worth $3.56 trillion and $3.16 trillion, respectively.
(Ibis World)
2. The global online banking market is expected to hit $31.81 billion by 2027.
Global online banking statistics in a recent study revealed that this sector was worth $11.43 billion in 2019. If the projected jump happens, the increase will be 13.6%. The same study forecasts that Europe and North America will hold the world's largest digital banking market. However, Asia-Pacific is also expected to emerge as a leader in the online and mobile banking industry.
(Allied Market Research)
3. The global market capitalization of the banking industry rose in Q1 2021.
In Q1 2020, the banking market cap was at a low of €4.9 trillion (~$5.8 trillion), to start a tentative recovery later in the year. The following quarter saw a slight improvement, and the market cap jumped to €5.3 trillion. The first quarter of 2021 saw a more marked rise to €7.3 trillion. These banking industry stats indicate that the sector has picked up again in the wake of the global COVID-19 crisis.
(Statista)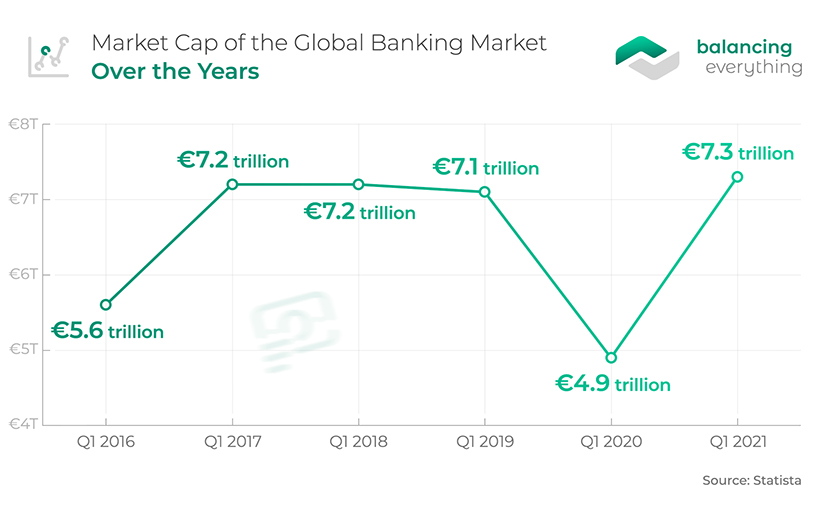 4. J.P. Morgan Chase is the largest bank in the world by market cap.
At the end of July 2021, the market cap of the bank stood at $453.16 billion. The runner-up is Bank of America with $323.61 billion, followed by ICBC (China) with a $245.66 billion market cap. Wells Fargo and China Construction Bank round up the top five with $184.90 billion and $176.69 billion, respectively, according to global bank stats.
(Companies Market Cap)
5. In 2021, four Chinese banks were market leaders by total assets.
With total assets of $4.91 trillion, ICBC (China) secured the global market's top position. It was followed by three other Chinese banks — Agricultural Bank of China ($4 trillion), China Construction Bank ($3.65 trillion), and Bank of China ($3.62 trillion). Japan's Mitsubishi UFJ Financial Group and its assets of $3.35 trillion completed the top five global leaders' list. Global banking statistics further show that the highest-ranked American bank here was J.P. Morgan Chase. It held the sixth position with its $3.24 trillion in total assets.
(FXSSI)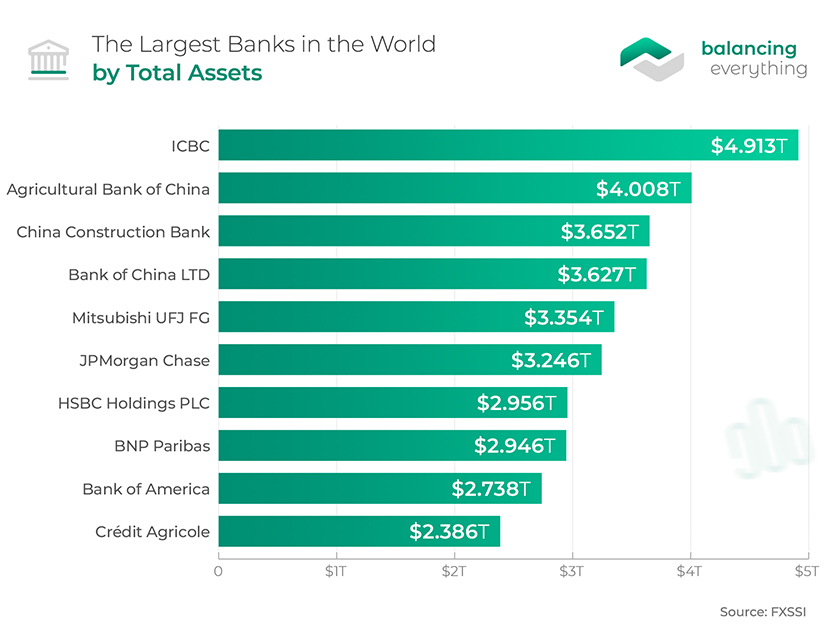 6. The UK's HSBC Holdings is the largest bank in Europe by total assets.
HSBC Holdings had assets valued at 2.95 trillion, as of 2021. France's BNP Paribas and Credit Agricole Group came in second and third. Their total assets in 2021 were $2.94 billion and $2.38 billion, as confirmed by European banking industry statistics. Spain's Banco Santander ($1.73 trillion) and France's Societe Generale ($1.63 trillion) rounded up the top five European banks.
(FXSSI)
7. In 2020, there were 381,410 ATMs across Europe.
This marks a 2% drop in popularity compared to the previous year. The decrease reflects the surge in popularity of non-cash payments which accelerated amid the COVID-19 pandemic.
(E.A.S.T)
8. About 40% of ATM users use the machines between 8 and 10 times a month.
The average number of ATM uses per month is 300, according to the latest ATM usage statistics. On average, 24-hour convenience store ATMs process 3,000 transactions per month. The best performing ones process as many as 6,400 transactions a month. In the US, every year, over 10 billion ATM transactions are performed.
(National Cash)
9. The global ATM market is expected to grow to $30.50 billion by 2027.
In 2019, the ATM market reached $20.58 billion and is expected to keep growing over the next decade. Even though figures show that in Europe, the number of ATMs decreases, the industry is still likely to expand. ATM usage stats estimate that the global ATM market will reach $30.50 billion by 2027. This improvement would represent a CAGR of 5.2%.
(GlobeNewswire)
10. In 2019, creating digital capabilities was a top priority for banks worldwide.
Developing such capabilities was the most critical technology area for about 28% of bank organizations. Modernizing legacy systems, managing security, identity, and privacy, along with building a modern workplace were other essential aspects. These stats show that banks worldwide have fully embraced global digitalization rather than trying to avoid it.
(Deloitte)
11. In 2019, banks worldwide invested the most in improving their digital banking product.
Global online banking statistics show that the largest share of bank investments ($15.2 billion) went to improving the digital banking experience. Call center and ATM improvements, by contrast, got $10.8 billion and $10.5 billion, respectively. In 2015, digital banking investments by banks worldwide totaled $10.7 billion. These figures reveal an increase of 44.76% in this type of investing.
(Deloitte)
12. AI's worth in banking is expected to reach $78 billion in North America.
Artificial intelligence is establishing itself as an essential part of the user experience for bank consumers. So, its value has been on a constant rise, especially in developed countries. In 2020, in North America, its worth in the sector was $25 billion. This figure is expected to jump by an impressive $53 billion or by 212% by 2030. These are some eye-opening banking stats but not the most surprising ones. Namely, in Europe and the Asia Pacific, the expected worth of AI in banking is even higher at $86 billion and $99 billion.
(Statista)
13. The global mobile banking market is estimated to hit $1.82 billion by 2026.
In 2018, this sector was worth $715.3 million. If the predictions come out right, the mobile banking market will improve by an impressive 154.43%. The research predicts a CAGR of 12.2% between 2019 and 2026. Android is expected to remain the leader in revenue, while the C2B segment is expected to fuel the growth.
(GlobeNewswire)
US Banking Industry Statistics
14. About 94.6% of American households were banked in 2019.
This corresponds to about 124.2 million. According to the FDIC overview of the consumer banking industry, an estimated 5.4% (or about 7.1 million) of US households were unbanked in 2019. This marks a 1.1 percentage points drop from 2017, and the lowest result since 2009, the survey's first year.
(FDIC)
15. Unbanked Americans cited not having enough money to keep in a bank account as the main reason for their situation.
Checking account statistics show that 29% of unbanked households said this was the main reason. Other major reasons for not having a bank account in 2019 included distrust in banks (16.1%), a wish for more privacy (7.1%), and high fees (7.3%). About 1.6% believe bank account fees are too unpredictable, while 8% have issues with personal identification, credit, or former bank account.
(FDIC)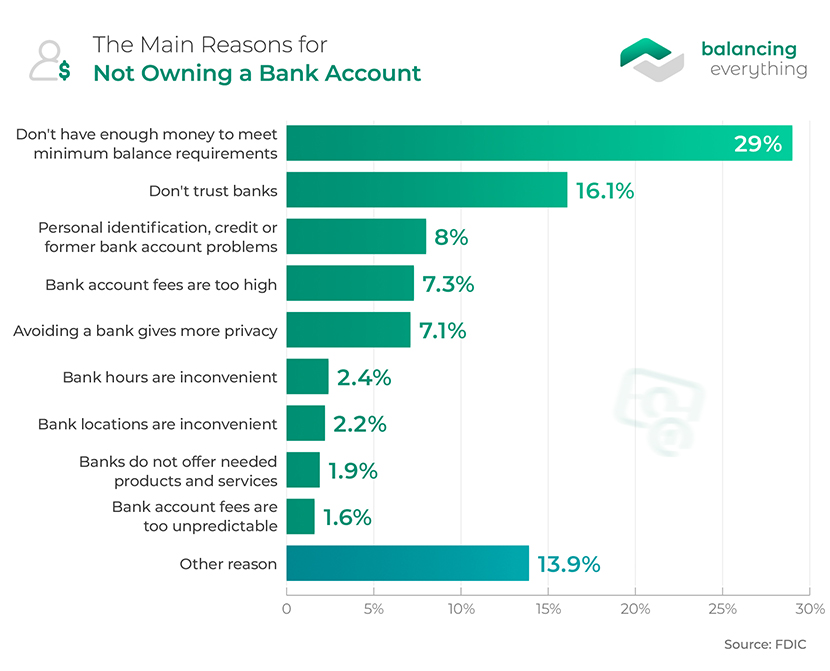 16. Checking and savings accounts are the most common type of bank accounts in the US.
About 76.2% of all accounts are checking and savings accounts. Only 1.8% are savings only. The latest consumer banking statistics and trends show that the remaining 22% are checking only bank accounts. Meaning, Americans use their account for both handling their finances and saving for the future. The newest savings statistics meanwhile show that Americans have an average of $30,000 in reserves.
(FDIC)
17. The number of total commercial banks in the US between 2009 and 2019 dropped by 2,311.
In 2009, there were a total of 6,829 commercial banks in the United States and Other Areas. This number fell in the next decade. In 2014, there were 5,607 commercial banks, and that figure dropped to 4,518 in 2019. This 10-year drop represents a decrease of over a third (33.84%). Bank stats, for example, show that in 1990, there were 12,347 commercial banks.
(FDIC)
18. The number of total branches in the US between 2009 and 2019 decreased by 5,653.
The number of total bank branches in the country fell alongside the number of commercial banks. In 2009, there were 82,490 branches. Their total number in the next five years dropped to 81,405 and then to 76,837 in 2019. This decrease, however, was by 6.85% and much lower than the drop in the number of commercial banks. These numbers are still higher than those recorded in the 90s, as confirmed by statistics on banking. In 1990, for instance, there were only 50,199 branches.
(FDIC)
19. In 2019, the total assets of all US commercial banks were $17.49 trillion.
The exact total asset value was $17,491,428,748,000. The total asset worth of commercial banks in the US has been growing over the past decade. In 1999, they were worth $11.82 trillion. From 2009 to 2019, the total asset value increased by $5.67 trillion. Back in 2000, US commercial banks had only $6.24 trillion in total assets.
(FDIC)
20. The total deposit value in US commercial banks is continually increasing.
In 2019, the total deposits reached an impressive $13.61 trillion. For comparison, in 2016, 2017, and 2018, it was $11.98 trillion, $12.46 trillion, and $12.89 trillion. The latest US banking statistics show that in 2009, the total deposit value was much lower at $8.51 trillion.
(FDIC)
21. The total equity capital of American commercial banks has been steadily growing over the past 20 years.
In 2019, the total equity capital reached $1.98 trillion, marking an all-time high. In 2016, 2017, and 2018, the total equity capital was $1.73 trillion, $1.82 trillion, and $1.88 trillion. Compared to a decade ago, the difference is slightly more significant. In 2009, American banks' total equity capital was $1.28 trillion or $0.7 trillion lower than its 2019 value.
(FDIC)
22. Total commercial bank loans to individuals nearly hit $1.70 trillion.
Per the FDIC consumer banking statistics, Americans borrowed $1.69 trillion from commercial banks in 2019. This amount has been growing ever since 2009. In 2009, it was at $977 billion, meaning it grew by $718 billion in 10 years. The largest share of the total loan amount went to credit card plans. Nearly 48% or $924 billion were loans to credit cards. According to the newest credit card debt statistics, this isn't surprising with the US having the highest card debt globally.
(FDIC)
23. Americans have over 5 bank accounts on average.
The average number of bank accounts per person in the US is 5.3. About 58% of American consumers decide what bank to choose by inertia, according to consumer banking statistics. Namely, 49% just feel most comfortable with the choice. An additional 26% and 14% pick their bank because their credit card is issued there, or their investments are there. US credit card statistics and trends further show Americans have 2.7 credit cards on average.
(PaymentsJournal)
24. J.P. Morgan Chase was the leading commercial bank by revenue in the US in 2019.
This bank generated revenue of $142.42 billion, according to US banking stats. This figure is significantly higher than the $113.59 earned by Bank of America. The other two US banks with earnings over $100 billion in 2019 were Wells Fargo ($103.92 billion) and Citigroup ($103.45 billion). Goldman Sachs Group ($53.92 billion) and Morgan Stanley ($53.82 billion) were the only banks with revenues just above $50 billion.
(Statista)
25. Wells Fargo was the leading commercial bank in the US by number of employees in 2020.
Wells Fargo earned the first spot in this category, with its 233,403 employees. J.P. Morgan Chase ended up second here with 197,963 personnel. Bank statistics further show that Citibank and Bank of America ranked third and fourth with 168,124 and 140,198 employees, respectively.
(Statista)
26. J.P. Morgan Chase had the largest market capitalization in the United States in 2021.
This bank's market cap was $453.16 billion and was followed by the market cap of $232.61 billion of Bank of America. Wells Fargo and Citigroup came in third and fourth by market cap with respective $184.90 billion and $137.35 billion.
(CompaniesMarketCap)
Online Banking Statistics
27. Consumers in Iceland, Denmark, and Norway use internet banking the most compared to other European countries.
The growth of online banking in these countries has been impressive. In 2020, 96% of Icelanders, 94% of Danes, and 94% of Norwegians said they were using the internet for banking, according to consumer banking industry data. People from Finland, the Netherlands, and Sweden recorded high levels of online banking use (92%, 89%, and 85%, respectively). Montenegro, Kosovo, Bosnia and Herzegovina, Romania, and Bulgaria are the European countries where online banking use was under 15% in 2020.
(Eurostat)
28. 63% of American households used online banking to access their bank accounts.
Online banking trends in the US reveal there's been a modest increase in internet banking. Back in 2013 and 2015 respective 55.1% and 60.4% of families accessed accounts online. In 2017, online banking was the primary method for accessing bank accounts for 36% of households. Still, this type of managing bank accounts was the most common choice during each of these years.
(FDIC)
29. Online banking is most used among households making at least $75,000.
Just under a third of such households (32.1%) use internet banking to access their accounts, as online banking statistics reveal. Only 9.9% of US families earning under $15,000 do the same. About 21.2% and 17.1% of those whose income is $50,000-75,000 and $30,000-50,000 use the internet for banking. Finally, among those households making $15,000-30,000, less than 15% (12.7%) manage bank accounts online.
(FDIC)
30. Young Americans aren't the ones who use online banking the most.
While people expect younger generations to use online banking the most, that wasn't the case in 2019. Internet banking was the most popular among Americans aged 55-64 (29.3%) and 45-54 (26.6%). Online banking usage statistics further show that consumers aged 15-24 (7.2%) and those aged 25-34 (14.4%) use online banking the least.
(FDIC)
31. White Americans use internet banking the most.
As many as 26.7 white Americans use the internet to access and manage their checking accounts, followed by 25.7% of Asian Americans. The concept is relatively popular among Native Americans too, with 17% of them using online banking. The latest digital banking statistics, only 12% and 11.1% of African and Hispanic Americans access bank accounts online.
(FDIC)
32. In 2019, over 161 million Americans banked online.
This figure has been continually growing over the past five years. In 2014, for example, about 135.5 million Americans used digital banking services. These numbers show an increase in online banking usage of nearly 20% (19.26%). The prevalence of digital technologies and the rise in fintech businesses fueled the change, as banking statistics reveal.
(Statista)
Mobile Banking Trends and Stats
33. About 40% of US families used mobile banking in 2017.
In 2013, only 23.2% of households used this method to access their bank account. By 2015, this share reached 31.9% and then hit the 40.4% recorded in 2017. This mobile banking vs online banking comparison shows how the first concept can soon overpower the latter. Over a third (34%) of households meanwhile chose mobile banking as a primary method. This percentage made mobile banking the fourth most popular option, following online banking, bank teller, and ATMs, according to mobile banking usage statistics.
(FDIC)
34. US families making over $75,000 use mobile banking the most.
Like high-income households use online banking the most, they also use mobile banking the most. In this category, about 38.1% of such families use their smart devices to access their bank accounts. Households earning $50,000-75,000 come in next, as 35.9% of them use mobile banking. In third place, we have families whose income is $30,000-50,000. The latest FDIC mobile banking statistics reveal about 33.2% of such households report using mobile devices for banking. Finally, with respective 23.5% and 25.9%, families earning under $15,000 and $15,000-30,000 use this method the least.
(FDIC)
35. Mobile banking is the most popular method for accessing bank accounts among Americans aged 15-24.
If we compare online banking vs mobile banking, the latter is more popular among young generations. Nearly two-thirds (62.9%) of consumers from this group primarily use mobile devices to manage their bank accounts. Those aged 25-34 come in next with 61.7%. The concept is modestly popular among those aged 35-44 and 45-54, with 49.8% and 36.3% using it, respectively. Unsurprisingly, mobile banking is the least used among those aged over 65 (8.3%), according to online banking facts.
(FDIC)
36. Hispanic Americans use mobile banking the most.
More than 40% (41.3%) of these consumers use mobile devices to manage their checking accounts. African and Asian Americans come in next with 37.2% and 39.3%. Only 31.4% of white consumers in the US access savings and banking accounts using smart devices.
(FDIC)
37. Mobile banking is on the rise among banked American households.
While most people focus on online banking vs traditional banking statistics, a third player is slowly conquering the market. Mobile banking, in contrast, noted a significant improvement in the use of 6.1%. If this trend continues as expected, mobile devices may soon emerge as the most popular method for managing bank accounts.
(FDIC)
38. Most banked American households use mobile devices to check emails about their banking accounts.
In 2017, 44.1% of banked households checked emails about their accounts via smartphones and tablets. About 35.4% checked balances or transactions, while 34% checked message alerts. FDIC's banking stats show that 26.5% and 25.4% of households used mobile devices to make bill payments and transferred money between accounts. Check depositing and money transfers to other people were daily actions for 18% and 13.7% of the households.
(FDIC)
The Bottom Line
While the popularity of online and traditional banking has slightly dropped, mobile banking is emerging as a leading trend. With mobile devices an inseparable part of our everyday lives, mobile banking sees a significant increase in use. With the rise of mobile and internet banking, ATMs are losing popularity too. The latest banking stats and trends show that their number has dropped by almost 30,000 between 2016 and 2019 in Europe only. Still, experts have predicted that the ATM industry will keep growing. So, only time will tell whether the latest banking trends will hurt this lucrative market.
References: Ibis World, Allied Market Research, Statista, Companies Market Cap, FXSSI, E.A.S.T. National Cash, GlobeNewswire, Deloitte, Statista, GlobeNewswire, FDIC, FDIC, FDIC, PaymentsJournal, Statista, Statista, CompaniesMarketCap, Eurostat, Statista