Coupon Statistics
The first coupon in America was issued by Coca-Cola back in 1888. Coupons have since become a popular and widespread marketing strategy, the latest coupon statistics reveal. Consumers love them as they are convenient and save them money. Businesses meanwhile use them to build brand awareness and boost loyalty rates. To discover the details behind these win-win shopping incentives, check out all the essential coupon market stats and trends below.
Coupon Statistics (Editor's Choice)
55% of grocery shoppers are frustrated when they can't use coupons for household goods.
95% of shoppers used coupons at least once in 2019.
The digital coupon redemption value is projected to reach $91 billion by 2022.
In 2020, Slickdeals was the most visited US coupon site with 100.37 million visits.
46% of US shoppers searched for household item coupons during the COVID pandemic.
About 145.3 million Americans are expected to use digital coupons in 2021.
The total savings from consumer packaged goods coupons in the US is $3.6 billion.
Coupon Trends and Stats
1. In 2019, 92% of US consumers had used coupons at least once.
In 2017 and 2018, the percentage of consumers who used coupons stood at 90 and 94. Among the 92% who used coupons in 2019, 45% used them always or very often. Only 8% responded that they never use any coupons when shopping.
(Valassis)
2. Household items are the most searched coupon category in the United States.
Over the COVID-19 pandemic, most Americans (46%) were looking for household item coupons. June 2020 coronavirus coupon trends show that restaurant (41%), grocery (40%), and electronics (37%) were other popular coupon categories among Americans. About 35%, 24%, and 23% of consumers also searched for coupons in the apparel, beauty, and health categories.
(Statista)
3. Digital couponing is on the rise.
Juniper Research data shows that the total value of redeemed digital coupons was $47 billion in 2017. By 2022, the research center forecasts that total redemptions will surpass $91 billion. These projections point to an impressive five-year increase of 93.61%.
(Juniper)
4. In 2017, nearly 300 billion coupons were distributed.
Coupon industry statistics show that the number of distributed coupons dropped by 1.2% in 2017 to 293 billion. The number of redeemed coupons was only 2 billion. Among the coupons distributed in 2017, about 271 billion were printed and 60 million were digital. For approximately 41% of consumers who used coupons, the average savings per peek was $30.
(Sun Sentinel)
5. The number of digital coupon users in America is expected to surpass 145 million in 2021.
In 2015, the number of US digital coupon users was 119.8 million. This figure kept growing over the years, surpassing 126 million in 2016 and going over 131 million in 2017. According to coupon statistics, the upwards trend continued in 2020, when 142.3 million Americans used coupons. The coupon industry kept expanding throughout the year, and it's projected to score 145.3 million users by 2021.
(Statista)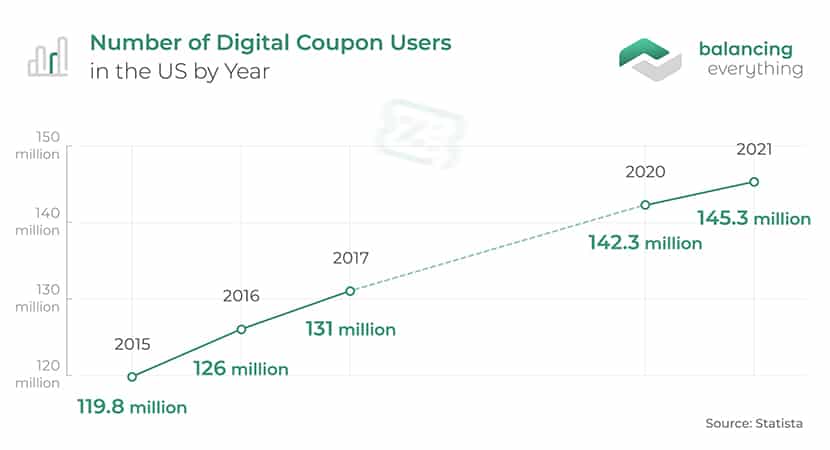 6. The total value of distributed consumer packaged goods coupons in the US is about $470 billion.
Consumers saved about $3.6 billion on consumer packaged goods thanks to coupons. According to coupon redemption statistics, the average value of food free-standing insert coupons was $1.22. The average face value of non-food free-standing insert coupons was $2.29.
(Statista)
7. In 2018, 94% of millennials used coupons when shopping.
53% of millennials admit to using coupons always or very often. Valassis' coupon statistics reveal that 30% of Gen Y shoppers always use coupons, while only 6% never use them.
(Valassis)
8. Consumers love coupons and find it frustrating when they can't use them.
About 55% of shoppers find it frustrating when they can't use coupons when purchasing household goods. This figure shows how vital coupons are to the shopping experience as consumers are always on the lookout for deals.
(Valassis)
9. Over two-thirds of all online shoppers find coupons important when shopping for groceries, coupon statistics show.
As much as 64% and 68% of all and online buyers cite 'saving money by using coupons' among grocery shopping's most essential aspects. As you can see in our latest online grocery shopping statistics, shoppers also care about convenience and finding stores with lower prices. Yet, when choosing between convenience and saving money through coupons, most shoppers select the latter.
(Valassis)
10. Millennial parents look for and redeem coupons more than other consumers.
Valassis' coupon redemption statistics show that millennial parents are the most likely to search for and use coupons compared to others. For printed coupons, 69% of millennial parents do this when preparing for grocery shopping. We have the same pattern when focusing on searching for coupons and loading paperless coupons onto loyalty cards. In these categories, 68% and 67% of millennial parents cited these two as something they do when preparing for grocery shopping.
(Valassis)
11. One-fourth of consumers avoid shopping online because they can't use coupons.
Coupon trends indicate that about 25% of grocery shoppers avoid online shopping because they can't use coupons to get better prices. Being unable to take advantage of in-store deals also affects shoppers when deciding whether to shop in-store or online. Approximately 69% of shoppers choose where to get their groceries based on whether they can take advantage of digital couponing.
(Valassis)
12. Nearly 90% of consumers claim that using coupons saves them lots of money.
Knowing that using coupons saves lots of cash for 89% isn't one of the surprising coupon facts. It's amusing to discover though that 86% of shoppers are influenced by the availability of coupons to choose brands. Moreover, 45% of millennial parents and 42% of online grocery buyers would use more coupons if they were more widely accepted.
(Valassis)
13. Mail coupons remained the most popular type of coupons in 2019.
Their popularity has been on the rise for several years in a row. In 2017, 2018, and 2019 approximately 44%, 48%, and 50% of consumers preferred them. About 44% and 42% preferred getting coupons in newspapers and paperless discounts on their loyalty cards. According to promo code statistics, 38% and 34% of shoppers want paperless coupons on smartphones and printable coupons from the internet.
(Valassis)
14. Online shoppers have a better couponing game than in-store consumers.
About 65% of online shoppers use coupons always or very often, per the digital coupon statistics. Less than half (45%) of all consumers do the same. Moreover, 59% of online grocery shoppers select printed coupons for their shopping activities compared to only 50% of all consumers. When it comes to digital coupons, 60% of online shoppers load them on loyalty and frequent shopper cards. Only 40% of all consumers do the same.
(Valassis)
15. Paperless discounts are on the rise and especially popular among millennial parents.
With the rise of online shopping and smartphones, paperless coupons are becoming more popular, too. According to the latest coupon statistics, about 75% of all shoppers use these paperless discounts. Below, let's see how they rank among different shopping demographics.
Parents – 92%
Millennial parents – 96%
Millennials – 88%
Generation Xers – 83%
Baby Boomers – 64%
(Valassis)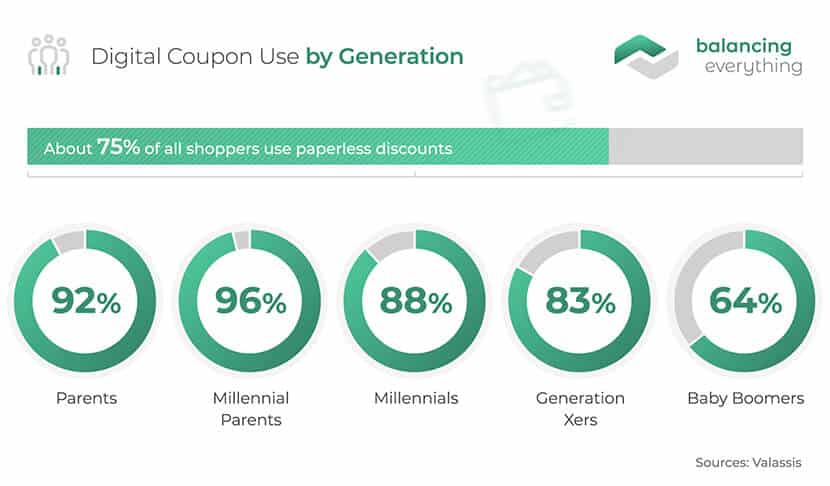 16. Most shoppers turn to store websites when looking for coupons.
Coupon websites are becoming increasingly popular among shoppers in the United States. These couponing websites provide fast and easy access to discounts, and that's why users love them. Below, let's go over the most common strategies for finding coupons according to the latest coupon website statistics.
Store websites – 71%
Brand websites – 70%
Coupon websites – 68%
Search engines – 67%
Saving sites and blogs links – 61%
Social networking websites – 50%
(Valassis)
17. Coupon apps are the second most popular mobile savings apps among Americans.
About 47% of consumers who use mobile savings apps utilize couponing ones. Only grocery and drug store saving apps are more popular — 56% of shoppers use them. Cashback apps (44%), in-store rewards apps (40%), and shopping list apps (35%), and deal comparison apps (34%) are other popular options. US mobile coupon statistics show that coupon apps are the most popular among millennial parents with 85% of this category using them.
(Valassis)
18. While coupons are popular, consumers want some improvements in the way they are used.
About 58% of shoppers said they would love for coupons to be simpler to use. Approximately 53% wanted to use paperless coupons anywhere rather than at stores offering the deal. Nearly half (49%) of consumers would use more coupons if they could find discounts for products they intend to buy. These coupon facts can help businesses reach higher average coupon redemption rates and step up their marketing game.
(Valassis)
19. Over 80% of people from any income group look for coupons.
American shoppers from any income group want to snatch the best shopping deals. Any of the income groups note high coupon redemption rates and lots of users. Below, let's see what percentage of consumers from a certain earning level looks for deals and coupons.
Over $200,000 – 86%
$100,000-149,000 – 85%
$20,000-39,000 – 87%
(Hawk Incentives)
20. Coupon clipping companies help consumers save millions of dollars every year.
Coupon clipping services like The Coupon Clippers (TCC) are on the rise, the latest coupon statistics show. TCC has reported that they ship between 1,500 and 2,500 coupons per week and serve 250,000 customers. The company grew into a $1 million gross revenue business that saves users over $10 million in groceries a year. The average customer of such services is a mother aged 28-45 with an average family income of $25,000-50,000.
(Forbes)
Global Coupon Stats
21. In 2019, consumers redeemed about 31 billion eCoupons globally.
In 2014, the estimated number of redeemed digital coupons was 16 billion. Meaning, the number of used eCoupons nearly doubled in only five years. The same applies to mobile coupons. In 2014, about 650 million mobile coupons were redeemed around the world. Five years later, in 2019, this number reached 1.05 billion.
(Invesp)
22. The number of US companies that use mobile coupons for marketing is continually increasing.
Mobile coupons are a popular marketing method among American companies. In fact, between 2014 and 2017, their use increased by 11.5%. In 2014, about 36.5% of American brands launched mobile coupons for marketing. According to the latest coupon industry statistics, by 2017, this share jumped to 48%.
(Invesp)
23. Over half of the consumers find coupons useful for building brand loyalty and awareness.
Companies are investing in coupon marketing to promote brand awareness and customer loyalty. This is a smart step as 68% of consumers believe coupons build brand awareness. Moreover, 68% said that coupons generate loyalty, while 60% admitted they loved getting coupons. Finally, 50% of shoppers said they were more likely to visit a business if they received a digital coupon from it. These coupon advertising statistics establish that digital coupons are an excellent way to attract new and keep existing customers.
(Invesp)
24. Investing in mobile coupons earns businesses higher returns.
The popularity of coupons isn't slowing down, and mobile coupons are especially loved. While customers love them for the discounts they guarantee, they pay off for businesses, as well. Namely, 77% of shoppers spend between $10 and $50 more than expected when redeeming mobile coupons. About 17% report spending over $50 when redeeming mobile coupons. However, according to statistics on coupon usage, about 49% of smartphone users took advantage of mobile coupons compared to only 10% of tablet users. So, while mobile coupons are undoubtedly popular, they're mostly used on smartphones.
(Invesp)
25. Groupon is the most searched coupon website in the United States.
In June 2020, Groupon had an average of 1,830,000 monthly searches in the US. It was followed by Slickdeals and its average of 1,220,000 monthly searches. Rakuten rounded up the top three most searched coupon sites, 2020 coupon website statistics show. This website was searched, on average, 823,000 times a month. RetailMeNot (550,000), Swagbucks (368,000), and Woot (165,000) were also among the top five most popular American coupons sites,
(Statista)
26. Slickdeals was the most visited coupon website in the United States.
While Groupon was the most searched website, Slickdeals was the most visited one in June 2020. About 100.37 million consumers visited Slickdeals. This number of visits is significantly higher than the 49.46 million visits registered at Groupon. This is one of the most amusing coupon facts about the coupon market as it highlights an interesting discrepancy between searches and visits. In a similar trend, RetailMeNot beats Rakuten's 25.97 million visitors with 46.13 million visits.
(Statista)
FAQs
Who started couponing?
The history of coupons dates back to 1887 when Asa Chandler released the first coupon. Chandler offered a free glass of Coca-Cola on a handwritten ticket. This promotion helped Coca-Cola become the recognizable brand it is today.
How much was the first coupon in America worth?
When Asa Chandler gave out the first-ever coupon, it gave users a free sample of Coca-Cola. Back then, the glass bottle was sold for 5 cents. So, when you want to share fun coupon facts, remember that the first coupon released in the US was worth 5 cents.
How big is the coupon industry?
The coupon processing industry is estimated to be worth over $100 million. 307 billion coupons were distributed throughout the US in 2016 alone, while the number of digital coupon users in America is expected to surpass 145 million in 2021.
How many coupons are redeemed each year?
Promo code statistics show that in 2017, about 293 billion coupons were distributed, while about 2 billion were redeemed. Yet, digital couponing is on the rise and the total value of digital coupon redemptions is expected to hit $91 billion by 2022.
What is the average coupon redemption rate?
The industry average coupon redemption rate stands at a mere 1%. This doesn't mean that coupons aren't popular among consumers, however, and only indicates the distribution to redemption ratio.
Are millennials using coupons?
94% of millennials in the US are using coupons when shopping. 53% use them always or very often. The trend is especially high among millennial parents, with 69% of them using printed coupons and 67% using paperless coupons.
Is couponing really worth it?
89% of consumers claim couponing saves them a lot of money. Consumers save about $3.6 billion on consumer packaged goods thanks to coupons, while services like The Coupon Clippers save users over $10 million in groceries a year.
What are the most common types of coupons?
The most basic categorization includes paper and paperless coupons. There are also coupons you can print, alongside manufacturer coupons. One unique type of coupon is Catalinas. There are long and narrow vouchers you sometimes get after purchasing at a specific store.
The Takeaway
As you can see in these latest coupon statistics, coupons are an efficient way for shoppers to save cash. Moreover, coupons are a great marketing strategy for brands that want to build their brand and boost loyalty. More importantly, coupons are here to stay as their popularity among consumers keeps growing. So, if you're a business owner who wants new customers or a consumer looking for a good deal, knowing the coupon mechanics is a must.
References: Valassis, Statista, Juniper, Sun Sentinel, Statista, Statista, Hawk Incentives, Forbes, Invesp, Statista, Statista