How Many Americans Are Uninsured
Health insurance is a controversial subject in America. Compared to other developed countries, the States are falling behind on providing affordable healthcare for their citizens, but this is the price to pay for the nation's otherwise high standard of living and booming economy. Looking at how many Americans are uninsured, is it worth it? This is just one of the things that we'll explore in this article.
Key Facts About the Uninsured Population in the US
Approximately 11% of US cancer patients are uninsured.
In 2020, the average health coverage cost for an individual was $456 and $1,152 for a family.
About 23 million Americans are covered by the ACA.
In 1940, only 9% of Americans had health insurance.
Annually, 45,000 people die due to a lack of health insurance.
Types of Health Insurance
Many of those who are uninsured don't even know what their theoretical options are. While there are many types of policies for Americans without health insurance to consider, they can be broken down into seven categories.
Preferred Provider Organization (PPO) – Employees who get access to this type of plan can use various doctors and facilities belonging to a particular network.
Health Maintenance Organization (HMO) – This plan offers various choices, and also generally comes with a low out-of-pocket expense requirement.
Point of Service (POS) – This type of health insurance combines critical features of both HMO and PPO insurance.
Exclusive Provider Organization (EPO) – Members of this plan may choose from a network of providers, although they also have a primary care physician.
Indemnity Health insurance – This type of health insurance entails a fee for service plans where members pay out-of-pocket first.
Health Savings Account (HSA) – This is just a that, a health savings account, which makes it a good option for Americans with no medical insurance.
Health Reimbursement Arrangements (HRA) – This plan allows employers to offer health benefits without needing to give a group health insurance plan.
Timeline of Health Insurance and the Uninsured in America
To give you a better perspective of the number of Americans without health insurance, we'll take a look at how it fares historically through the evolution of health insurance.
How it Began
Before the 20th century, insurance was not a topic at all in America. The practice first started in lumber companies in Washington state in the 1890s with businesses paying doctors in exchange for medical services offered to their employees.
This changed in 1929 when hospitals in Texas banded together to offer a means of helping patients afford care, forming the Blue Cross.
Further Advancements
In 1940, only 9% of Americans had a form of health insurance plan. In 1960, president Johnson introduced Medicare and Medicaid to lower the number of Americans without healthcare coverage, especially among senior citizens.
The Affordable Care Act and Aftermath
Given the number of uninsured Americans, a massive reform had to be done. On March 23, 2010, the Affordable Care Act was signed by then-president Barack Obama.
The Number of Insured Before and After Obamacare
The Affordable Care Act statistics paint a clear picture. The program was a success, especially for black Americans, children, and small business owners. The number of Americans living without health insurance has fallen by 20 million people closely following the act's adoption.
Obamacare uninsured numbers show such significant progress primarily because following the program's promulgation, coverage has been made easily accessible and, of course, affordable. Not only that, but it has been deemed mandatory for all Americans to have health insurance. Those who chose not to acquire any were required to pay a fee.
Although the number of uninsured before and after ACA shows the program as a success, recently, the number of people not covered has risen again. This was caused by the removal of the uninsured tax by the Trump administration in 2019. Even as the numbers increased in recent years, the number of people uninsured under ObamaCare remains lower than before, health insurance statistics show.
Currently, most uninsured adults are employed but are not covered because the businesses they work for are relatively small, and cannot afford it. Their incomes are in the low bracket as well.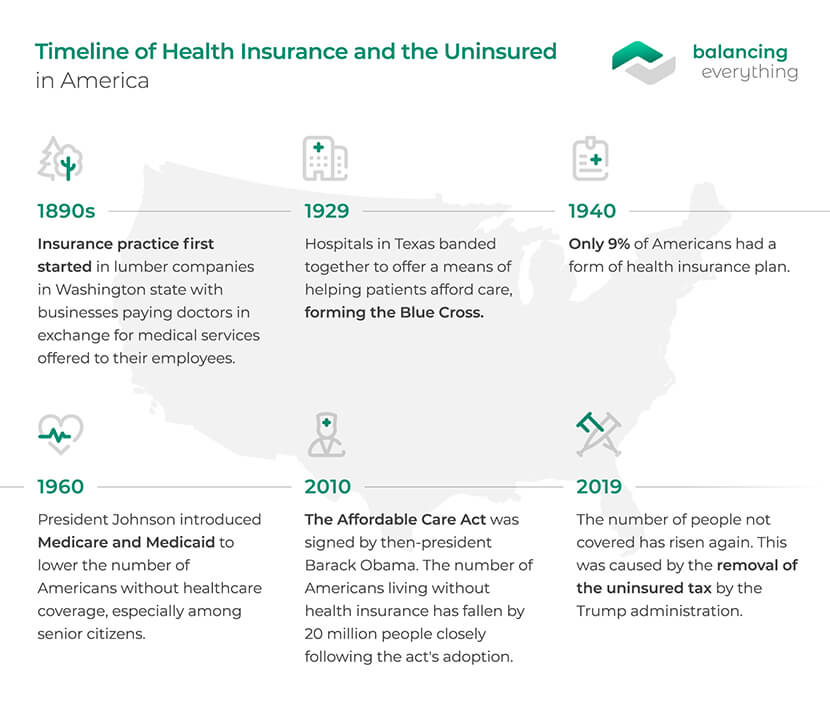 Consequences of Not Having Health Insurance
Unfortunately, numbers show that a lack of insurance can result in living a life in illness and dying younger. Going to the doctor too late and forgoing preventive care until diseases reach advanced stages is a sad outcome of not having health insurance.
Among the other lack of health insurance consequences, a severe accident or medical issue that causes the need for emergency care or costly treatment often results in severe financial strain, credit issues, or even bankruptcies.A Harvard University study finds that the deaths due to lack of healthcare annually are somewhere in the range of 45,000.
Frequently Asked Questions
How many Americans don't have health insurance?
In 2019, the number of uninsured Americans was 29.9 million (approximately 10.9% of the population).
How many uninsured were there before ACA?
In 2010, before the Affordable Care Act, there were as many as 46.5 million uninsured Americans.
How many people are on ACA?
It's estimated that about 23 million people are currently covered under the ACA.
How do the uninsured population access medical care?
These people usually need to pay out-of-pocket for medical care. Additionally, they also access medical care through public, teaching hospitals, community clinics, etc, which are collectively known as "safety net".
Why are people uninsured?
Most people who are not covered face this situation because they can't afford the costs and don't get access through their employment. Looking at the national uninsured rate, it remains a problem, although the numbers in recent years have diminished.
Are uninsured people covered for COVID-19?
Unfortunately for those with no medical insurance, the Department of Health and Human Services only paid out limited Covid patients' reimbursement.
Are uninsured losses tax deductible?
Itemized uninsured losses are deductible, although these can be hard to claim due to the complicated procedures and requirements.
Can the uninsured get cancer treatment?
Sadly, those living without health insurance do not get any financial aid for having their cancer treated.
Can an uninsured get a flu shot?
Any American is eligible for a flu shot. However, Americans without health insurance must pay out of pocket.
Who is uninsured in America?
Looking at the current uninsured rate, (85.4%) are young and middle-aged adults. 5.6% are children, and the rest are senior citizens. Uninsured individuals typically tend to be young, with low incomes and few assets.
Who pays uninsured hospital bills?
If you are not covered and require hospitalization, the sad truth is you will have to pay out of pocket. To reduce the uninsured healthcare costs, your options are to check your area for the doctors and hospitals with the best prices, pay in advance, in cash, or negotiate for reduced rates.
How many pregnant women are uninsured?
The latest available public data shows that about 10 percent of all pregnant women in America are uninsured.
How many cancer patients are uninsured?
The numbers show that the percentage of Americans without health insurance who are cancer patients is 11%, according to the latest official data available.
How much does the average health insurance cost?
In 2020, the average national price for health coverage was $456 for an individual and $1,152 for a family.
How many bankruptcies are from uninsured people?
Medical expenses are the number one reason people declare bankruptcy in America. Given how many Americans are uninsured, it's no wonder that these account for 66.5% of the total cases.
References:PeopleKeep, HealthCareCalifornia, CNBC, CNBC, HealthAgents, Monster, Urban, Investopedia, KFF, KFF, PolicyAdvice, Quizlet, KFF, KFF, Nolo, Guardianlife, Singlecare, KF, TheBalance, Pubmed, NCBI, EhealthInsurance, Investopedia, NCBI.