PayPal Statistics
PayPal was established back in 1998 by Max Levchin, Peter Thiel, and Luke Nosek under the name Confinity. Two years later, Confinity merged with Elon Musk's X.com, and, as they say, the rest is history. PayPal statistics show that the service has over 300 million active accounts and processes over $700 billion a year. The platform has further paved the way for other e-wallets and online payment methods. That's why we've prepared the most interesting stats and facts about the world's most popular e-wallet, so read on to learn more about this game-changing platform.
PayPal Statistics (Editor's Choice)
PayPal has over 392 million active users.
In 2020, PayPal processed a total payment volume of $886 billion.
As of 2021, PayPal has 26,500 total global employees.
PayPal's share price recorded an all-time high of $304.79 in February 2021.
PayPal processed almost 34 million transactions a day in 2019.
About 72.2% of European online users prefer paying with PayPal.
General Stats and Facts About PayPal
1. The total number of PayPal users has been growing ever since 2010.
In the first quarter of 2010, the platform had nearly 85 million users. This number has been improving steadily since to surpass 300 million by the end of 2019. Namely, in Q1 of 2021, the total PayPal number of users reached 392 million active accounts.
(Statista)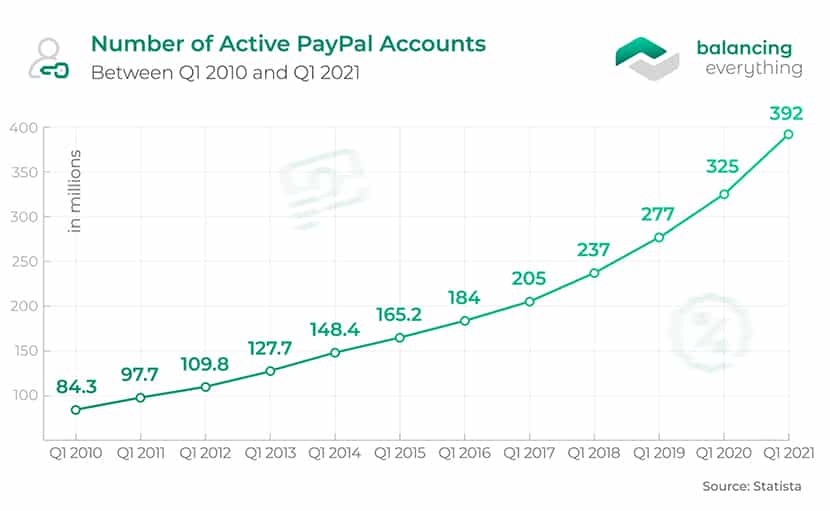 2. Over one-third of North American retailers accept PayPal.
The service was integrated by 36% of North American retailers in December 2018. Among the remaining 64%, 34% said they planned to add this payment method within two years. PayPal statistics show that only 30% of the retailers have a 'wait and see' approach.
Apple Pay meanwhile held the largest market share in December 2018 among the digital payment methods. This option was accepted by 50% of the retailers. Masterpass by Mastercard, Visa Checkout, and Mobile POS payments came in next. Respective 45%, 43%, and 43% North American retailers worked with such digital payments.
(Statista)
3. The number of PayPal transactions rose by 34% in Q1 2021.
Facts about PayPal show that the service processed 4.4 billion payments in the first quarter of 2021, noting a 34% improvement. The company further added 14.5 million net new active accounts, which implies a 21% rise in PayPal users.
(PayPal)
4. Over 500,000 websites have listed PayPal as an available online payment method.
Datanyze provides several exciting facts about PayPal, starting with the total number of sites offering the service. As of July 2021, a total of 505,198 websites were accepting PayPal payments. Over the previous month, 3,221 websites dropped the service compared to 8,466 that added it. The PayPal market share stood at an impressive 54.34%, outperforming the 19.14% of its main rival Stripe. Another potential competitor is Amazon Pay, whose market share stood at 3.88%.
(Datanyze)
5. PayPal is the most popular with the IT industry.
Facts about PayPal show this e-wallet is used the most with the computer, technology, and electronic industry, boasting 5.24% popularity. Lifestyle comes in next with 4.15%, followed by Arts & Entertainment with 2.42%, and Games with 2.35%.
(SimilarTech)
6. The average PayPal conversion rate in 2018 was 88.7%.
In its conversion analysis report, PayPal reported soaring conversion rates of 88.7% for its e-wallet. Per the report, PayPal's conversion was, on average, 60% higher than the other digital wallets. The average conversion rate of other e-wallets was 55.3%, while the overall conversion of all payment types was 48.7%. PayPal also compared the overall conversion rates of sites that accept PayPal Express Checkout and those that don't. It turned out that those sites that allow the option have conversion rates of 61%. According to the PayPal statistics, sites without Express Checkout had a lower conversion rate of 41.3%.
(PayPal)
7. PayPal One Touch has an online conversion rate of nearly 90%.
Over 50% of Internet Retailer 500 merchants have the One Touch feature by PayPal enabled. A Business Wire study discovered that the service's online conversation rate was impressive at 87.5%. The second option on the list had a conversion rate of only 36.4%. Meaning, PayPal One Touch outperforms its main competitors in this segment by over 50%.
(Business Wire)
8. Some 80 million PayPal consumers use the One Touch option.
PayPal statistics from 2021 show that One Touch is a viral feature among users, with some 80 million users having activated it. One Touch was launched in April 2015, and it got its first 10 million PayPal users by December the same year.
(Business of Apps)
9. The number of active merchant accounts increased by over 8 million in three years.
In the second quarter of 2016, there were 14.50 million active merchant accounts on PayPal. Over the next three years, their number grew modestly. By the second quarter of 2019, according to the official PayPal statistics, there were a total of 23 million companies that use PayPal.
(Marketplace Pulse)
10. eBay transaction share of PayPal's total payment volume significantly dropped since 2015.
eBay took over PayPal in 2002, right after the latter's initial public offering on the stock market. PayPal became a favored payment method for the online marketplace, while eBay transactions represented a serious share of PayPal's TPV. In 2014, however, eBay decided to spin off PayPal into a separate company, in a shocking moment of the PayPal company history.
(Marketplace Pulse)
11. In the first quarter of 2021, PayPal processed 4.4 billion transactions.
This figure notes a massive 34% rise compared to the prior-year quarter, according to PayPal facts. The number underscores customer growth and engagement for the payment processing service amid the ongoing COVID-19 pandemic.
(PayPal)
12. PayPal processed nearly 34 million transactions per day in 2019.
In the four quarters of 2019, PayPal processed the following number of transactions: 2.838 billion in Q1, 2.937 billion in Q2, 3.09 billion in Q3, and 3.461 billion in Q4. Adding these numbers up, we get a total of 12.362 billion transactions in 2019. If we divide this figure by 365 days within a year, we get PayPal statistics of 33.86 million PayPal transactions per day on average.
(Statista)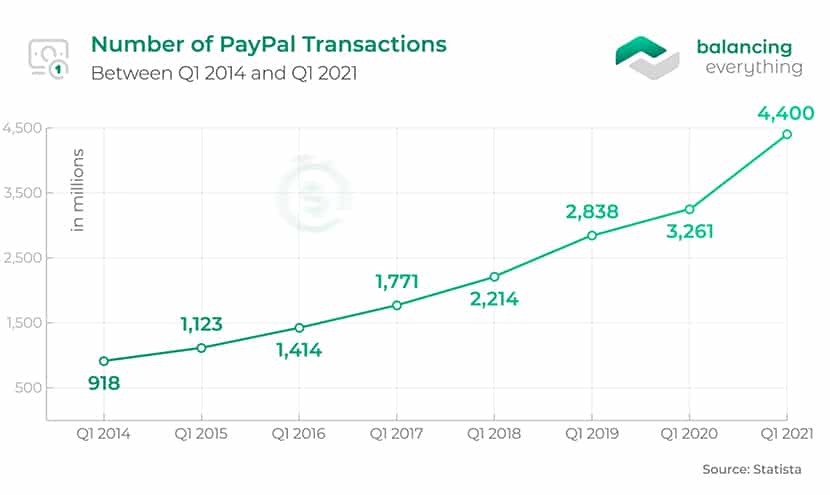 13. PayPal is the most popular pick for phishing websites.
ID theft statistics show that phishing is among the most popular strategies among offenders. What the data collected by Hacker Combat and PayPal consumer reports reveal, however, is that most phishing websites impersonate PayPal. In 2019, 39% of such sites used PayPal to try and steal user details. Microsoft, Bank of America, and Apple came next with 20%, 7%, and 7%. Facebook was also on the top ten list with 5%.
(Hacker Combat)
14. The average daily transaction volume of PayPal is much lower than that of giants like Visa and MasterCard.
Official PayPal statistics show that the average daily transaction volume of the e-wallet in 2013 was about $397 million. Payment giants like Visa and MasterCard had much higher daily averages of $17.55 billion and $9.86 billion. China Union Pay and American Express were the only other payment networks with an average daily transaction volume of over $1 billion.
(Statista)
15. PayPal is the top payment method in most European countries.
PayPal facts show that the service is the most popular payment method in Europe. The platform leads the way in Austria, Belgium, France, Germany, Greece, Hungary, Ireland, Italy, Poland, Portugal, Spain, Switzerland, and the United Kingdom. Visa is its main competitor and the most popular choice in the Czech Republic, Denmark, Finland, Norway, Russia, Slovakia, Sweden, and Ukraine. Finally, it's interesting to see that 80% of online users in the Netherlands use iDeal.
(Ecommerce News)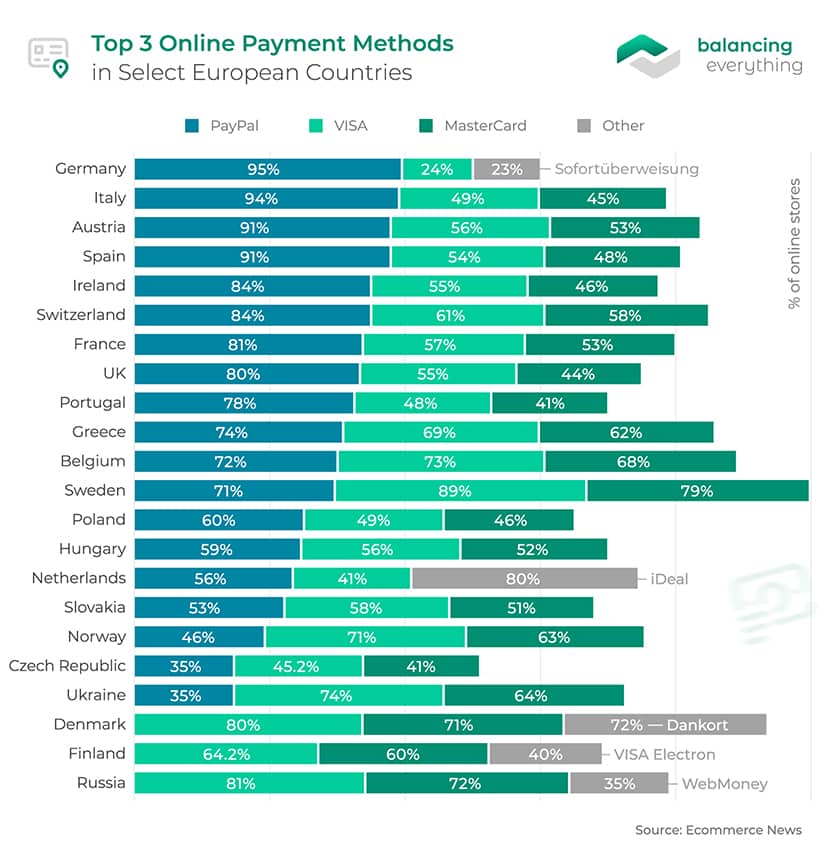 16. Nearly three-fourths of Europeans prefer using PayPal over other payment methods.
About 72.2% of European users prefer making payments using PayPal. The Ecommerce News PayPal statistics show that this e-wallet is more popular than other giants like Visa, MasterCard, and American Express.
(Ecommerce News)
PayPal Financial Statistics
17. The largest share of PayPal revenue comes from transactions.
This hasn't changed since 2012 when the transaction revenues of PayPal were over $5 billion. The other services, in contrast, generated only $643 million. By 2017, both segments doubled. The transaction revenue that year reached $11.5 billion, while the revenue from other PayPal services totaled nearly $1.6 billion. PayPal statistics show that transaction revenues soared, whereas other services slowed down. So, in 2020, the first generated the company nearly $20 billion, and the latter only $1.5 billion.
(Statista)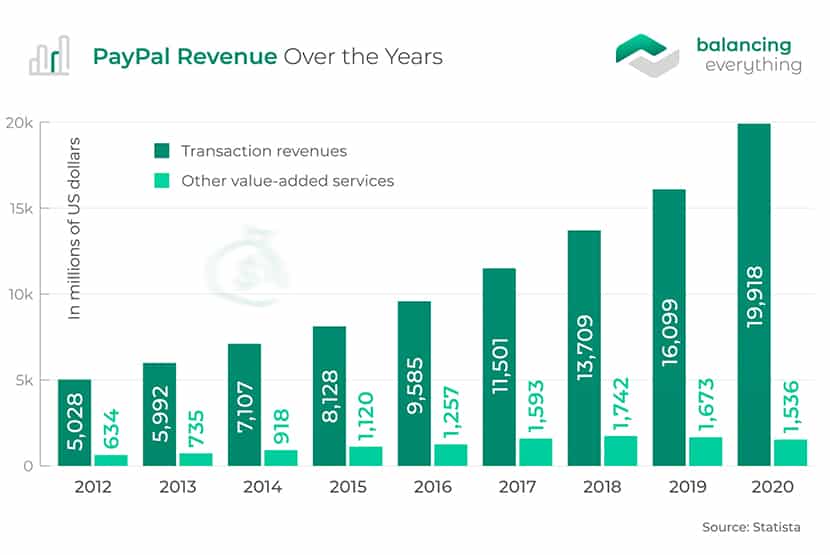 18. In Q1 of 2021, PayPal generated revenue of just over $6 billion.
PayPal mentioned revenue of $6.03 billion as one of the financial highlights of its first-quarter results for 2021. This figure points to an improvement of 31% over the prior-year quarter. The company further posted GAAP earnings per share of $0.92, up from $0.07.
(PayPal)
19. PayPal's total payment volume processed hit more than $280 billion in Q1 of 2021.
PayPal facts show that the platform's total payment volume in the first quarter of 2021 soared to $285 billion, up 46% on a forex-neutral basis from the prior-year period. It's interesting to compare this figure with Venmo statistics on total payment volume. PayPal's sister brand processed payments worth $51 billion during the reported period, marking a massive 63% rise year-on-year.
(PayPal)
20. PayPal recorded its strongest annual performance in 2020.
The PayPal revenue for 2020 hit $21.54 billion, according to PayPal statistics. The company further reported GAAP operating income of $3.29 billion, up 21%. Over the year, the payment processor generated a cash flow of $5.85 billion, registering a 44% spike year-on-year.
(PayPal)
21. PayPal's share price hit an all-time high in February 2021.
PayPal facts show that on February 16, the group's share price posted a record high of $304.79. Back in 2002 when the platform first went public, its IPO was priced at $13 per share. While the shares briefly dropped to $86 during the COVID-19 pandemic, they have since recovered.
(MarketScreener)
22. PayPal spends billions of dollars each year on technology and product development.
Constant improvement is one of the reasons why the PayPal e-wallet attracts more and more customers. So, the information that the company invests heavily in technology and product development isn't among the surprising facts about PayPal. In 2014, the company spent $747 million, and in 2017 nearly $1 billion. Expenditures for technology and product development reached record-high figures of $1.83 billion and $2.08 billion in 2018 and 2019.
(Statista)
PayPal Workforce Statistics
23. PayPal employed over 26,500 people worldwide in 2021.
The latest PayPal Workforce Diversity Data figures show that the company has over 26,500 workers globally. PayPal statistics show that the group has 100% global gender pay equity. In 2020, the company had a 58% diversity score of employees at all levels which is defined as the combination of PayPal's female workforce and their ethnic male workforce.
(PayPal, Statista)
24. Men dominate the leadership positions in PayPal.
In 2018, 57% of all the 20,200 PayPal employees were men, and 43% were women. This difference is more significant when the focus shifts to leadership roles. Here, male workers tend to dominate. PayPal statistics further show that 63% of PayPal vice presidents were male. About 64% of directors and higher roles were held by men as well. Male employees dominated the tech roles too, with only 25% of those positions held by women. Still, the company remains fully dedicated to paying equity, and it increased the number of female hires by 11% y-o-y.
(PayPal)
25. White employees represent half of the PayPal workforce.
While 50% of the global PayPal workforce in 2018 was represented by white workers, only 7% were of African descent. Among the surprising PayPal facts is the percentage of Asian employees. Nearly one-third, i.e., 31% of the employees in 2018 were Asians. The rest 7% and 4% were Hispanics, bi-racial or other.
(PayPal)
Summary
There is no doubt that PayPal is here to stay. The service is continuously seeing positive results, and its customer base is ever-growing, as evidenced by the latest PayPal statistics. In fact, it's a matter of time when the e-wallet's family will surpass the 400 million accounts threshold. More importantly, though, PayPal is among the fintech giants dedicated to an open and diverse work environment and fights for pay equality and diversity within its workforce.
References: Statista, Statista, PayPal, Datanyze, SimilarTech, PayPal, Business Wire, Business of Apps, Marketplace Pulse, Statista, Hacker Combat, Statista, Ecommerce News, Statista, PayPal, MarketScreener, Statista, Statista, Statista, PayPal