Savings Statistics
Setting some money aside for the future is never a bad idea. And yet, the latest savings statistics show that Americans are far from living by that principle. An average US family has a bit over $40,000 in savings, which isn't nearly enough for retiring by 65. Then, 14% of Americans have no retirement savings.
How much could American adults save per month? What state boasts the highest average retirement savings? How has the COVID-19 pandemic impacted savings? All these are relevant questions, and, as always, we have the answers.
Keep reading and learn all about saving money in the United States and how the country compares to other economies worldwide.
Savings Statistics (Editor's Choice)
Macao has the highest household savings rate of 64.3%.
In 2020, the net household savings in the USA soared to $2.85 trillion.
The top 1% of American households have about $2.5 million in savings.
The average American household has $14,700 in savings.
The American household savings rate soared to 30% in April 2020.
45% of Americans believe they will outlive their savings.
Global Saving Money Statistics
1. China has a much higher household savings rate compared to other countries.
Between 2000 and 2016, China's savings rate was consistently over 25%. The lowest recorded rate was 27.21% in 2002, while the highest was 38.99% in 2010. Per the OECD chart, in 2016, the Chinese household savings rate was an impressive 36.14%. China's special administrative region Macao meanwhile outperformed the mainland in 2021 with 64.3%.
In the euro area, the savings rate was only 5.65% in 2018, down from a high of 8.14% seen in 2003. Australia and the UK were even worse with 2018 savings rates of 3.03% and 0.37%, respectively. Saving money statistics show that in 2019, the Canadian family savings rate was also low at 2.27%.
(Investopedia, OECD)
2. Sweden had the highest household savings rate among EU countries.
In 2020, the family savings rate of Swedish households was 17.6%, more than the rate of any other EU economy. Germany was the runner-up with 16.2% of disposable household income, followed by Italy with 10.3.
(OECD)
3. Nearly half of UK residents have less than £100 in their savings accounts.
Savings statistics show that about 44% of Brits claimed not to have over £100 in savings in 2016. In Northern Ireland, 56.8% of the residents belonged in this group, while in the West Midlands, 55.2% were in the same situation. About 42.3% of London residents were also in this group of people with less than £100 in their savings account.
(Statista)
American Savings Statistics
4. The top 1% of American households have average savings of over $2.7 million.
The situation is drastically different when the focus shifts to the bottom 20% of American families by income. Here, the average savings are only a little over $24,000. The conclusion is obvious – those that make the most money also manage to save the most money. Even the difference between the top 1% and the top 10% is significant, as indicated by the American savings statistics. Namely, the top 10% of US households that earn the most have average savings of a little over a million.
(CNBC)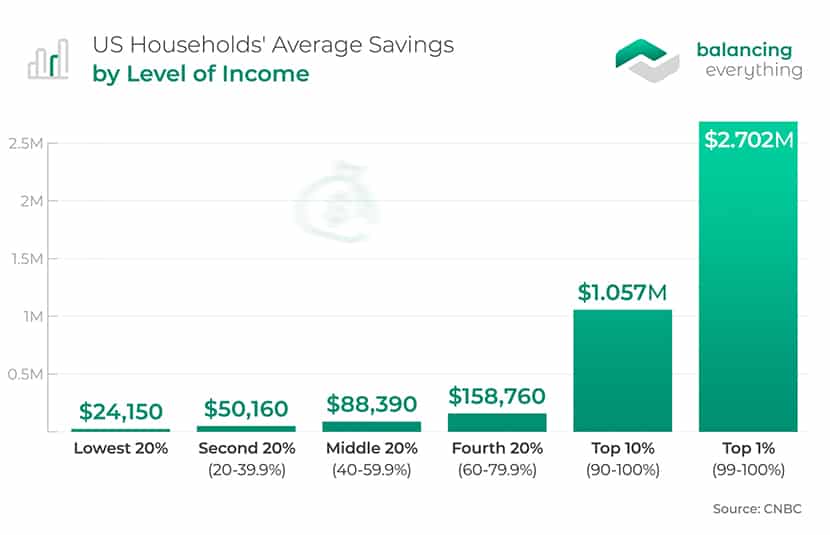 5. In 2020, the value of the US gross private savings was over $5.83 trillion.
US consumer debt statistics reveal that Americans tend to spend more money than they have. That said, they save money too. The gross private savings in the United States have been on the rise ever since the sixties. In 1990, this segment went over $1 trillion for the first time, reaching $1.14 trillion. In 2003, the $2-trillion threshold was hit, while in 2009 the savings of Americans totaled $3.38 trillion. The total value of savings surpassed $4 trillion in 2017 and reached $4.72 trillion in 2019, according to the nation's saving money statistics.
(Statista)
6. Only 6% of Americans have $50,000 or more in their savings account.
At the other end of the spectrum, we have the majority, or 45% of Americans. These people had $0 in their savings account in 2019, while an additional 24% had less than $1,000. About 12% said they had between $1,000 and 4,999. Meaning, 81% of the participants had less than $5,000 in savings at the time of the survey. Respective 5%, 5%, and 4% had savings accounts with $5,000-9,999, $10,000-19,999, and $20,000-49,999.
(Statista)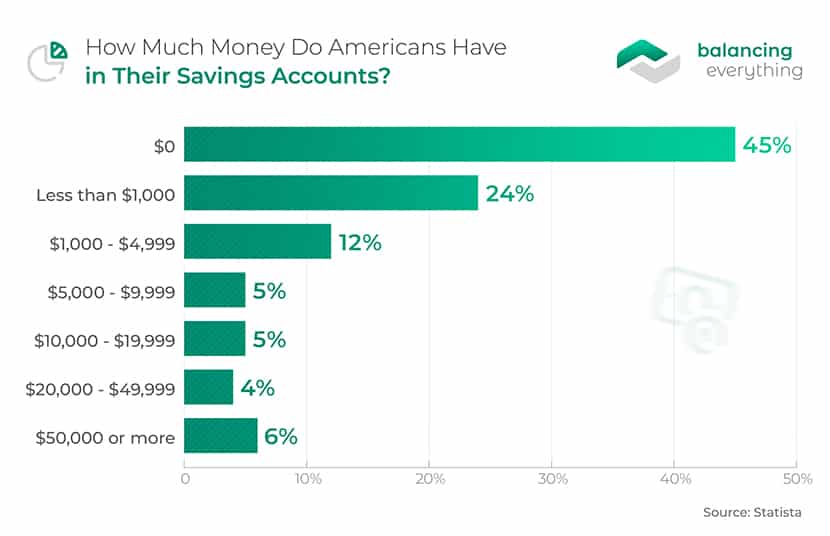 7. The household saving rate soared in April 2020.
In the savings statistics above, we noted a drop in the personal saving rate in the US. In 2020, however, the situation drastically changed, and the rate rocketed over 30%. The upwards trend started in February 2020, when the household saving rate went above 8%. It surpassed 10% the next month when it settled at 12.7%.
April 2020 saw a 20.3-point improvement in the US personal savings rate to 33%, marking an all-time high. The reason behind this jump is the COVID-19 pandemic that caused Americans to curb spending and stockpile cash.
(Trading Economics)
8. Americans have withdrawn $1,000 on average because of COVID-19.
And while saving facts point to the positive impact of the pandemic for some Americans, others had to deplete their emergency funds because of income loss. The median amount withdrawn from savings stood at $1,000 as of September 2020, while the mean withdrawal was $3,138.79. This combination, however, implies that fewer people withdrew out more than $3,138.79, compared to those who took out less.
(Fool.com)
9. Retirement savings represent the largest share of savings in American accounts.
According to US savings account facts, 50.5% of US households have retirement accounts, with the average balance at $255,200. The other type of savings account with a notable percentage is certificates of deposit, held by 7.7% of households.
(MagnifyMoney)
10. The total assets of 529 plans reached more than $373 billion in 2020.
According to statistics on saving money, Americans had $347.6billion in 529 savings plans as of June 2020. This plan gained in popularity in 2019, because in 2018 such savings totaled $288 billion. Another drastic improvement in the total value of the 529 savings plans was noted in 2013. That year, the total amount reached $203 billion from $145 billion in 2011.
For those unfamiliar with this college savings plan, it offers tax and financial aid benefits. It's primarily used for education expenses, but you can use it for other costs as well. The latter option comes with federal income taxes and a 10% penalty on any earnings.
(ICI)
11. Liquidity is the most common reason why American families save.
This is one of the fun facts about saving money stateside. Statista listed the most common reasons for saving cash among Americans and liquidity led the way in 2010, 2013, and 2016. Other popular reasons for saving were retirement (30.3%), purchases (12.1%), education (7.2%), and for the family (6.9%). About 0.6% said they were saving money for no particular reason, while 0.8% didn't save at all.
(Statista)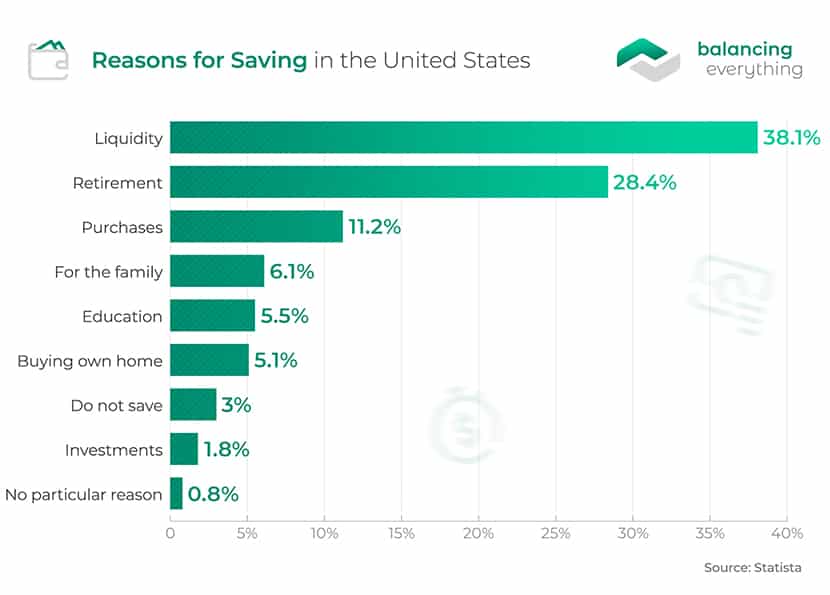 12. 401(k) plans and regular savings accounts are the most common types of retirement savings.
54% of Americans prepare for retirement through their 401(k) plan. The average 401k balance of Americans is about $106,000. A regular savings account was also popular in 2020, with 55% of the participants having one. American savings facts name traditional IRA (20%), Roth IRA (19%), and Certificate of Deposit (19%) as other common types of retirement savings among Americans.
(Statista)
13. About 8% of Americans could survive no more than a month with their emergency fund.
Despite the household saving rates among Americans rocketing, most US citizens couldn't survive more than six months with their emergency fund. About 8% couldn't survive over a month, while 14% could survive up to two months. These savings statistics are worrisome and show that many Americans couldn't deal with a significant financial emergency. Only 9% and 13% responded that their emergency fund would last seven to twelve months or over a year.
(Statista)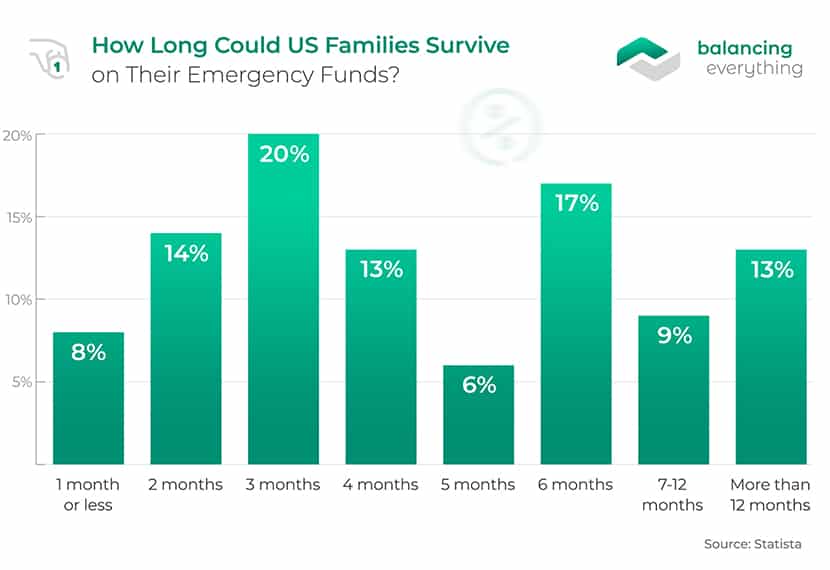 14. The average household savings balance in the US is nearly $42,000.
The average American household has $41,700 in savings, while the median American savings balance is only $5,300. Those with the best education, unsurprisingly, have the highest household savings on average. So, the average savings by education show that Americans with a college degree have about $79,100 on the side. The US savings statistics show that those with some college education have average household savings of $23,500. Those with a highschool diploma and those without have an average savings account balance of $20,100 and $9,100, respectively.
(ValuePenguin)
15. Younger Americans have the lowest average savings per age.
The average savings by age 35 move around $3,200, which is much lower than the other average household savings by age. Those aged 35-44 carry an average savings balance of $4,700, while those aged 45-54 have about $6,300 aside. As the age range improves, so do the average savings, as suggested by statistics on saving money. Americans aged 65-74, therefore, carry a savings balance of $8,000. As stats on average savings by age group reveal, people over 75 have the highest amount of cash reserves of about $9,300.
(ValuePenguin)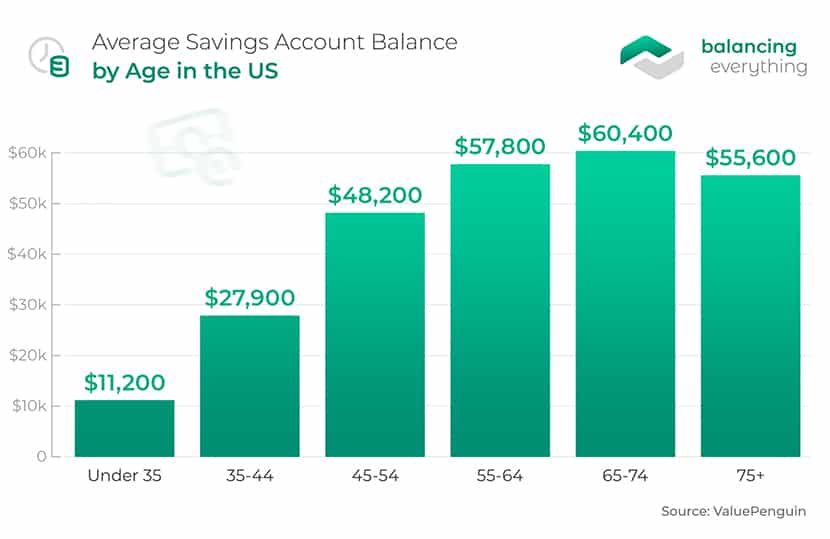 16. White men carry the highest average savings balance compared to other Americans.
The median American savings by gender are $7,000 for males and $2,000 for females. Let's shift the focus to average American savings balance by race. Here, we can notice that white residents have reserves of about $7,140, while African Americans carry around $1,000 in savings. Hispanics come in between with an average American savings account balance of $1,500. So, these savings statistics help us conclude that white and male Americans have the highest cash reserves.
(Debt.org)
17. 70% of Americans don't have a long-term savings plan.
It seems that the American saving habits need improvement as the majority of people don't even have them. Only 30% of US adults have a long-term saving and financial plan. A household budget plays a significant role in meeting your saving goals. Still, only 32% of households in the USA maintain a budget. On average, Americans spend less than 4.5 hours per year to focus on their finances.
That's why we have lots of scary savings account facts. Only 39% of American adults, for instance, could deal with a $1,000 emergency. A larger share (44%) couldn't even pay for a $400 crisis.
(Debt.org)
18. Nearly 14% of Americans have no retirement savings.
For 13.7% of US residents, $0 for retirement is a scary reality. About 28.6% of adult Americans have less than $10,000 in their retirement fund. Over 27% of people living in the US are likely to see their retirement without any savings. It's interesting to note that 80% of Millennials have a retirement fund. This is one of the surprising facts about saving money, especially among older generations. Still, Millennials are less likely to have savings for retirement compared to Generation Xers. Nearly two-thirds of Gen X Americans have over $10,000 in retirement savings, and 40% have more than $100,000.
(Debt.org)
19. Many Baby Boomers are unprepared for retirement and have no savings at all.
Every day, about 10,000 Baby Boomers turn 65 and reach retirement age. About 17% of them have under $5,000 saved for retirement, as indicated by savings statistics, while 20% hold under $5,000 in personal savings. A share of them belongs among the 15% of Americans without retirement savings at all. Generation Xers are even worse prepared with about 21% of them having less than $5,000 in retirement reserves.
(Northwestern Mutual)
20. Nearly half of Americans think they'll outlive their savings after retirement.
Want another one of the scary savings facts? About 45% of adult US residents believe their savings won't last long enough. Among those, 41% admitted to not taking any steps to address this potential issue. About 22% don't expect Social Security to be available after they retire.
Instead of saving more, 46% of non-retired US citizens plan to work after they turn 65. Most (53%) of those who expect to work past 65 claim they will work by choice rather than out of necessity. Among those, 47% who expect to work out of necessity, 78% gave 'not having enough savings' as the main reason.
(Northwestern Mutual)
21. The COVID-19 pandemic boosted savings among Americans by 30%.
American saving money statistics from April 2020 showed that during the pandemic, Americans spent the most on take-out, packaged food, and savings. Travel, public transportation, and out-of-home entertainment, in contrast, were the main losers, generating higher savings.
(Statista)
22. Americans could save about $6,000 a year.
An analysis by De Moines Register compared the average income and spending in the US. The figures established that the average income after taxes was $67,241, while the average expenditure was about $61,224. US savings statistics, therefore, indicate that Americans could be setting aside about $6,000 a year or about $500 in average monthly savings.
(Des Moines Register)
23. Connecticut has the highest average retirement savings by state in the US.
The average retirement savings in Connecticut are as much as 523,568, placing the state at the top. The second-highest average savings by state are seen in New Hampshire where residents carry an average retirement fund of $494,562. New Jersey completes the top-three list with average retirement savings of $489,664. Utah, North Dakota, and DC are at the bottom of the list with $300,392, $310,766, and $325,671, respectively, in average retirement savings.
(PersonalCapital)
Finding the Balance Between Spending and Saving
These eye-opening savings statistics show that Americans are yet to find their spending and saving balance. With 30% of US residents carrying more credit card debt than savings, many of them will welcome retirement underprepared. Still, with figures showing that American households could actually save money, maybe some better planning is all it takes to set something aside for a rainy day.
References: OECD, Investopedia, Statista, CNBC, Statista, Trading Economics, Fool.com, MagnifyMoney, Statista, ICI, Statista, Statista, Statista, Statista, ValuePenguin, Debt.org, Northwestern Mutual, Statista, Des Moines Register, Personal Capital