Credit Card Statistics
Credit cards date back to the 50s when the first-ever Diners Club card hit the market. They have become a vital part of every person's finances thanks to their convenience and benefits. In the United States alone, there are more than one billion cards in circulation, and the average balance owed is upwards of $5,000. These credit card statistics are just the tip of the iceberg when it comes to the concept of buy-now-pay-later. Which is the most popular card in the US and how many credit cards does the average American own? Can you guess the card with the highest acceptance rates worldwide? Scroll down to find out the answers to all these questions and more.
Credit Card Statistics (Editor's Choice)
There are 1.06 billion credit cards in circulation in the US. (Shift Processing)
70% of Americans own at least one credit card. (Shift Processing)
Americans have 2.7 credit cards on average. (Shift Processing)
Chase is the leading card issuing bank in the US. (MoneyGeek)
Visa is the most popular credit card brand in America. (Shift Processing)
The average credit card balance in the US is $5,331. (Shift Processing)
American Express is the credit card with the highest global success rate. (Spreedly)
General Credit Card Facts and Trends
1. In 2019, there were 2.8 billion credit cards in circulation.
Most of those (or 1.06 billion) were in circulation in the US, according to the Shift Processing credit card analysis. That compares to 1.49 billion credit cards in 2008 stateside. In 2000, there were 1.43 billion cards in circulation in America. By contrast, in the period between 2000 and 2008, the number improved by only 60 million.
(Shift Processing)
2. 70% of Americans have at least one credit card.
According to credit card ownership statistics, about 34% of those who carry credit cards have at least three of them. In 2019, the average number of cards per person was 2.7. In 2009, this average was higher at 3.7. Still, the number of cards in circulation has been steadily growing over the past two decades.
(Shift Processing)
3. The average number of retail credit cards per person rose between 2008 and 2020.
In 2008, Americans carried 3.03 store credit cards on average. By 2020, the number of credit card accounts had climbed to 3.84. Gen Z consumers are partially to blame for these credit card debt statistics, given the trend of younger age groups taking on more debt.
(Experian)
4. Baby Boomers are the generation with the most cards per person.
People from this generation have an average of 4.61 cards. Gen Xers come in second with an average of 4.23 cards per person. Consumers from the Silent Generation hold 3.64 cards, on average, while Millennials have 3.18. Generation Z Americans hold the lowest number of credit cards, and their average is 1.91.
(Experian)
5. Most US parents regularly carry a balance on their credit cards.
One of the more interesting credit card debt facts is that 29% of Americans with children regularly carry unpaid balances. About 27%, in contrast, said they never owe any balances on their cards. Only 7% of American parents have no credit card at all, while 20% occasionally carry balances. Americans who always have a credit card balance represent 17% of US parents.
(Statista)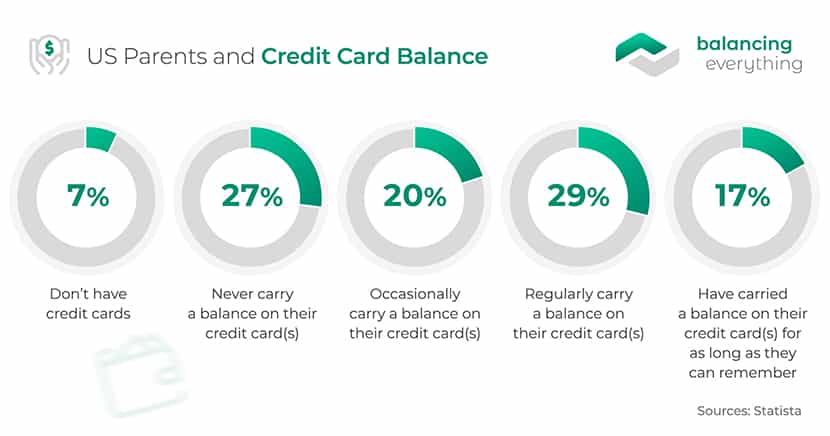 6. Chase is the leading issuing bank of credit cards in the United States.
Chase has issued 149.3 million cards, making it a true leader in terms of credit card market share. Next on the list comes Capital One with 106.9 million cards in circulation. The third biggest credit card issuer in the US is Citi, with 78.7 million cards. Credit card industry statistics show that Discover and Bank of America round up the list of the top-five card issuers, with a total of 61 million and 55.4 million cards, respectively.
(MoneyGeek)
7. Visa is the most popular credit card brand in the US.
This brand has released 335 million cards. The number was higher than all the Mastercard, Discover, and American Express cards combined, according to credit card data. Mastercard has 200 million cards in circulation, while Discover has about 51.4 million. American Express is the least popular, with only 47.5 million credit cards.
Credit card usage statistics further show that Visa's market share stands at 52.8%, followed by Mastercard and Discover with 31.6% and 8.1%, respectively. American Express is at the bottom with 7.5%.
(Shift Processing)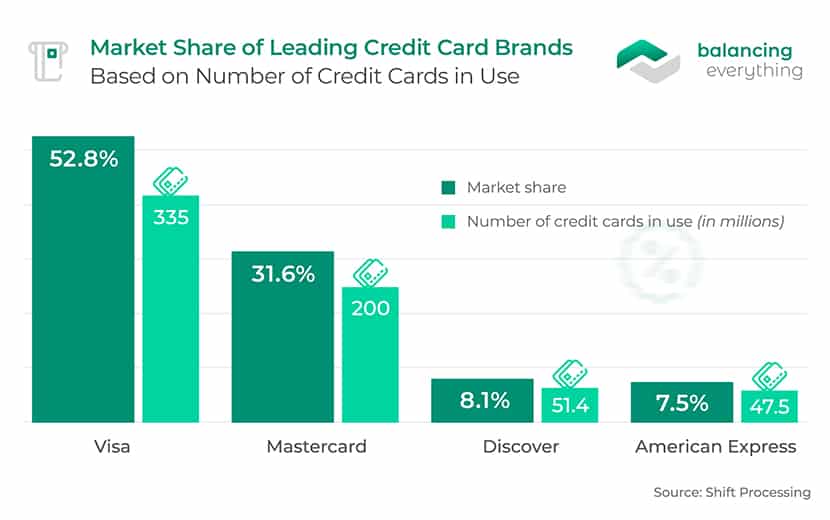 8. Credit cards are mostly used for online shopping and at department stores.
About 48% of US customers report that they use credit cards for online shopping. For 38% and 36%, credit cards are the top payment method in department stores and dine-in restaurants. Credit card payments seemed a less popular choice for supermarket shopping (27%) and fast food purchases (17%). Only 6% of consumers reported using their credit cards to make payments to individuals.
(Shift Processing)
9. Almost one-fourth of US consumers would never load their credit cards into their mobile wallets.
The latest US credit card statistics reveal a lack of confidence among card users towards mobile wallets. Only 10% of the TSYS survey responded that they have already loaded their card into their mobile device. About 8% said they would definitely do this in the future, while for 19% the step was likely to happen. Approximately 18% of American consumers were neutral on the topic, while 21% said it wasn't likely for them to do so. The majority or 24% claimed that they would never load their credit card into a mobile wallet.
(TSYS)
10. Contactless cards will dominate the market soon.
Back in 2013, card issuers introduced chipped cards, which made contactless payments possible. Today, contactless cards and payments are among the fastest-growing credit card industry trends. The acceptance of such cards expands continually, with more than half (51%) of Americans using some form of contactless payment. A growing number of consumers are shunning cash amid the COVID-19 pandemic.
(CNBC)
11. Loyalty rewards are the most critical factor when deciding what card to use.
TSYS credit card ownership statistics show that when asked what factors play a role in choosing one credit card over another, most participants (79%) cite loyalty rewards. Finance charges and the card brand were selected as essential factors by 67% and 55%, respectively. Flexibility, customer service, mobile capabilities, and balance transfer options were other top factors. Only 12% of the consumers said that card design plays a role in the decision-making process.
(TSYS)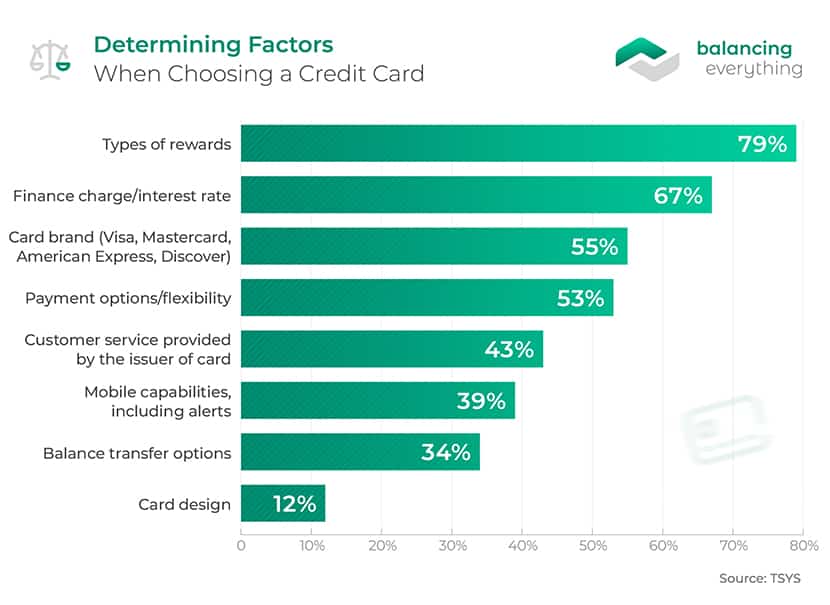 12. Cashback rewards are the most popular type of credit card rewards.
About 80% of consumers prefer and have claimed cashback rewards, credit card statistics reveal. Gift cards (47%) are the second most popular type of reward, followed by merchandise (38%). Travel rewards and experiences round up the list of the top five with 33% and 21%, respectively.
(TSYS)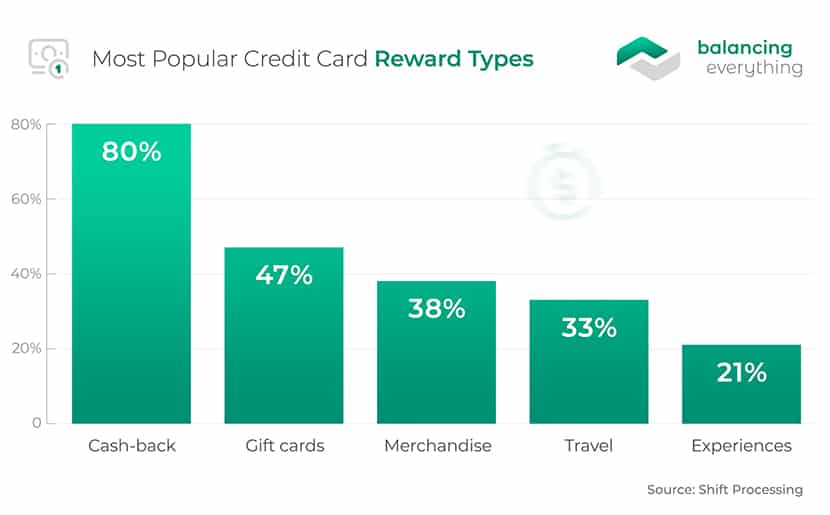 13. Business credit card spending is estimated to reach $686 billion in 2022.
Back in 2015, this figure stood at $430 billion and represented approximately $1 in every $6 spent through general-purpose cards. Among businesses that applied for credit, 31% got a credit card, while 86% chose loans or credit lines. Business credit card statistics show that 67% of small-business owners hold a business card. Still, for only 24% of those professionals, their credit cards are their primary payment method for business-related spending.
In 2017, 31% of business owners admitted to using credit cards as a source of capital. One interesting trend here is the low percentage (29%) who use business card rewards for paying business expenses. An even smaller rate (10%) uses card rewards for achieving business goals.
(Merchant Direct, NewYorkFed, BECU)
Credit Card Debt Statistics
14. The average credit card balance among US consumers is much lower than other types of debt.
In the US, the average credit card debt per consumer is $5,331, much lower compared to mortgage debt or student loan debt. These two types of debt are, on average, $148,060 and $33,654 per person. Student balances represent the largest share of the total consumer debt in the US, according to the consumer debt stats.
(Shift Processing)
15. In Q3 2022, the total revolving debt in the US was $1.1 trillion.
This amount was up from the $971.2 billion recorded in Q3 2021, according to credit card statistics. However, the Americans' credit card balance in the first quarter of 2022 was 1.02 trillion, down from the $1.04 trillion in Q4 of 2021. These figures would typically signal that Americans are getting rid of their credit card balances. The drop comes after the COVID-19 pandemic hit economies worldwide. So, it's likely that the loss of income contributed to the fall in credit card balances in the US more than anything else.
(Federal Reserve)
16. Alaska is the US state with the highest average credit card debt per consumer.
As per credit card debt facts, the average balance per person in this state is $6,787. Other leaders here New Jersey ($6,428), and Texas ($6,194). Iowa is the state with the lowest average card debt per consumer ($4,609). Wisconsin's average credit card balance is a bit higher at $4,628.
(Experian)
17. The USA has the highest average credit card debt among the countries with the highest GDP.
Facts about credit card debt in America show that the average card balance stateside is $5,331 per consumer. Canada and its average of $4,154 come in second, while the UK's $3,245 scores the third place. Japan and Germany round up the list of the top five countries with the highest average revolving debt. Their averages are $2,900 and $2,052, respectively.
(Shift Processing)
Cash vs Credit Card Spending Statistics
18. Credit cards have overtaken debit cards as the most popular payment method in the US.
In the period between 2013 and 2017, debit cards were the most preferred payment method among Americans. Come 2021, however, credit cards were used for 40% of point-of-sale payments, compared to 30% for debit cards.
(Statista)
19. Americans prefer cash for small purchases.
The latest credit card trends show that consumers use this method for expensive purchases. For small purchases of $10, debit cards remain the first choice for 37.7% of Americans. Nearly the same percentage of people (37.5%) answered they would pay with cash. Less than one-fourth of the participants (24.7%) would go for a credit card payment, while only 0.1% mentioned a mobile wallet.
(Shift Processing)
20. Using cash helps consumers spend less money.
On average, Americans spend $112 when using their credit or debit card. The average cash purchase, in contrast, is only $22. Credit card usage statistics show that consumers spend about 83% more when they use cards rather than cash. Still, besides the pros of cash, about 70% of Americans prefer making card (debit or credit) payments, citing convenience.
(Shift Processing)
21. Credit cards are preferred by Americans aged 65 and over, while those aged 45–54 would rather use cash.
In all age groups, debit cards lead the way as the preferred payment method. If we focus, however, on credit cards and cash, the first is more popular, as confirmed by cash vs credit card spending statistics. In the age groups of 18–24, 25–35, 35–44, 45, 54, 55–65, and 65+, the rate of people who prefer it stands at 21%, 23%, 24%, 21%, 29%, and 32%, respectively. The rates for the same age groups when it comes to preferring cash payments are 15%, 14%, 13%, 17%, 14%, and 11%.
(TSYS)
Credit Card Fraud Statistics
22. Around 363,092 credit card fraud reports in 2021 were due to account frauds.
The number of frauds in this category decreased slightly from 2020. According to the latest identity theft statistics, most of the reports (25.01%) were associated with impersonation. Among ID theft, credit card fraud is one of the most common subtypes, second only to government documents or benefits fraud.
(FTC)
23. Credit cards were the payment method with the most fraud reports in 2021.
The FTC Data Book 2021 on fraud in the US shows that 88,354 fraud cases were associated with misuse of credit cards. The total loss of all these cases was $181 million, according to credit card skimming statistics. Out of 440,058 fraud reports with a payment method, 58,026 were related to wire transfer scams, generating $482 million in losses.
(FTC)
24. Credit card-related ID theft has been on the rise for the past few years.
In 2021, there were 389,737 cases of identity theft associated with credit card fraud. Credit card fraud facts show that the number of cases dropped compared to 2020, when there were 393,378 incidents, but that the overall situation has worsened over the years. In 2016, there were much fewer ID theft reports in general, and only 124,552 of those were associated with credit cards. This figure doubled over the next three years. In 2017, 2018, and 2019 there were 133,100, 157,743, and 271,927 credit card fraud reports, respectively.
(FTC)
25. Americans aged 30–39 are the most common credit card fraud victims.
In this age group, there were 108,592 reports, more than in any other demographic. The second most common victims of credit card fraud were those aged 40–49, as FTC credit card theft statistics show. Here, there were 76,693 reports in 2021. 65,269, 45,741, and 21,992 cases of credit card fraud were reported by consumers aged 20–29, 50–59, and 60–69, respectively. Misuse of credit cards was the least common (1,707 reports) among Americans aged 19 and under.
(FTC)
Credit Card Acceptance Rates
26. The global credit card success rate is higher than the success rate of debit cards.
This trend is visible in Europe, the US, and Latin American countries. In Europe, the credit card success rate in 2019 was 88%, while the rate of debit cards was 87%. According to credit card statistics, the difference was more drastic in the US where credit cards had a success rate of 87% and debit cards of 76%. The success rates of credit cards and debit cards throughout LATAM countries were 84% and 69%, respectively.
(Spreedly)
27. American Express has the highest acceptance rate worldwide.
In Europe, the US, and Latin American countries, American Express is the most widely accepted card. Its 2019 success rates in these regions were 91%, 88%, and 89%, respectively. Visa and Mastercard share the same credit card acceptance rates of 79% in the US and 81% in LATAM countries. Visa is more accepted across Europe, Spreely's credit card trends show. In Europe, Visa's success rate was 88%, while Mastercard's was a bit lower at 85%.
(Spreedly)
28. Debit cards are preferred in Europe and the USA, while credit cards are the top choice in Latin American countries.
At 30%, the credit card usage rate is relatively low in Europe, especially when compared to the usage rate of 70% of debit cards. In the United States, debit cards are the more popular choice with a usage rate of 55%. The usage rate of credit cards in America was 45% in 2019. One of the surprising global credit card facts is the 75% usage rate of such cards in Latin American countries. There, only a quarter of consumers opt for a debit card, according to Spreedly's data on credit card penetration by country.
(Spreedly)
Credit Card FAQ
Is it bad to have a lot of credit cards with zero balance?
Credit utilization is among the vital credit score factors and should be under 30%. Cards with zero balance, therefore, don't hurt your score. You should instead worry about maxing your cards and missing payments. Not using your card for 12–24 months, however, might prompt your provider to close it.
What is a good number of credit cards to have?
This depends on your financial situation. The average American has 2.6 credit cards. Among Americans with at least one card, the rate is higher at 3.7. These credit card ownership stats suggest that this is the average most people can handle and even benefit from. Those who can't afford multiple credit cards, however, should stay away from them. For some Americans, it's best not to have a credit card at all.
How long can I go without using my credit card?
There is no specific rule when it comes to this. Everything depends on what credit card issuer you're using, as some are stricter than the rest. Generally, not using a credit card between 12 and 24 months can result in its closure by the company.
Is closing a credit card bad?
Credit card statistics show that keeping credit cards open improves your credit score, especially if the accounts were opened years ago. The length of your credit history plays a vital role in your FICO rating. Closing a card also affects your credit utilization ratio, which has an even bigger impact on your score.
If you are determined to close a credit card, however, there are specific steps to control the damage. Consider closing the card you had the shortest. Pay your other balances, so your utilization ratio is under 30% after the closure. Redeem any remaining rewards that would otherwise go to waste. Finally, work on the other factors so that you can maintain a good credit score.
Are credit cards used more than cash?
About 37.5% of Americans pay with cash for a $10 purchase. About 37.7% use a debit card, while 24.7% use a credit card, debit and credit card statistics show. It would seem that cash is the first choice for smaller purchases, while credit cards are preferred for services and products that cost several hundred or thousands of dollars.
Do I have to use my credit card every month to build credit?
A credit card account builds your credit in several ways. First, credit history positively affects your score, regardless of whether you use the card. Credit utilization is another factor that positively impacts the score as long as it's under 30%. Finally, regular payments also benefit your credit history. All of this means that using your card regularly is not essential for building your credit. You just need to make sure to use it at least once in 12 or 24 months. That way, the provider will keep it open.
Final Thoughts
All these eye-opening credit card statistics show that Americans appreciate credit cards because of their convenience and rewards. Still, there are US consumers who don't even own such a card nor plan to apply for one. Meaning, there are plenty of expansion opportunities for credit card products. As for industry trends, consumers can expect to witness the rise of contactless cards, whose market presence is ever-growing.
References: Shift Processing, MoneyGeek, Shift Processing, Spreedly, Experian, Experian, Statista, Shift Processing, TSYS, CNBC, Merchant Direct, NewYorkFed, BECU, BECU, Federal Reserve, Experian, Statista, FTC, FTC